This report was originally published by Tyler Durden at Zero Hedge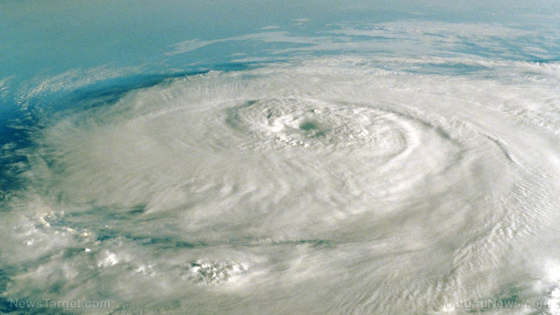 In a repeat of the scramble for safety that preceded the landfall of Hurricane Irma during the 2017 storm season, residents of the Florida panhandle are boarding up homes and fleeing inland as Hurricane Michael, already a Category 1 storm following a rapid intensification over the past 24 hours, barrels toward the northern Gulf of Mexico, where it's projected to make landfall on Wednesday, possibly as a Category 3 storm.
Hurricane Michael is moving north-northwestward over the Gulf of Mexico. Here are the 4 am CDT October 9th Key Messages on Hurricane #Michael. pic.twitter.com/zKG49aiLqY

— National Hurricane Center (@NHC_Atlantic) October 9, 2018
"The center of Michael is expected to move inland over the Florida Panhandle or Florida Big Bend area on Wednesday, and then move northeastward across the southeastern U.S. Wednesday night and Thursday," the U.S. National Hurricane Center said in an advisory at 5 a.m. New York time.
The hurricane could generate a 12-foot surge, and 4-8 inches of rain in the region, with isolated areas getting as much as 12 inches. Michael is arriving less than a month after Florence hit North Carolina on Sept. 14, causing devastating floods, killing at least 39 and causing about $45 billion in estimated damages. Duke Energy Corp. warned customers in the region to prepare for potential outages.
After initially forming over the coast of Honduras, Michael battered western Cuba and Mexico's Yucatan Peninsula over the weekend, causing flash flooding that left 13 dead, per CNN. With a hurricane warning in place from the Alabama-Florida border to the Suwannee River in Florida, and a hurricane watch in effect for the coast of Alabama, Florida's governor Rick Scott called Michael "a monstrous hurricane", and declared a state of emergency for 35 Florida counties from the panhandle to Tampa Bay.
Tropical storm watches have been issued for Chassahowitzka, Florida, to Anna Maria Island, Florida, including Tampa Bay, from the Mississippi-Alabama border westward to the mouth of the Pearl River, and along parts of the Southeast coast from Jacksonville to Charleston.
Florida also ordered mandatory evacuations in coastal areas, with 1,250 National Guard soldiers aiding the process and more than 4,000 troops on standby. The state will also deploy 100 state troopers to the panhandle area.
We are running out of time. TODAY is the day to get a plan, because tomorrow could be too late. It is critical that you take care of yourself, your family, and your business as Hurricane Michael approaches FL.

— Rick Scott (@FLGovScott) October 8, 2018
"This storm will be life-threatening and extremely dangerous," Scott said at a news conference Sunday. "This storm has the potential to bring devastating impacts to communities across the Panhandle and Big Bend and every family must be prepared."
"Everybody's got to get ready. Don't take a chance," he said. "We're going to get storm surge, we have wind, we have a chance of flooding, we have a significant chance of tornadoes."
The FL panhandle needs to be prepared for a direct hit with sustained hurricane force winds. Hurricane Michael is forecast to be a Category 3 storm when it makes landfall and the impact could be devastating. Get prepared NOW. https://t.co/5UfCXiVIK8

— Rick Scott (@FLGovScott) October 8, 2018
Locally-ordered evacuations have started ahead of Hurricane Michael in some FL counties. Visit https://t.co/OnxOrhg593 to find your evacuation zone, & follow alerts from your local emergency management center. If you are directed to evacuate, leave, DO NOT WAIT.

— Rick Scott (@FLGovScott) October 8, 2018
At my direction, state offices will be closed tomorrow, October 9th- Thursday, October 11th in the 35 affected counties where I have declared a State of Emergency.

— Rick Scott (@FLGovScott) October 8, 2018
Hurricane Michael is forecast to impact our state as a major Hurricane on Wednesday. Here's what we're doing to prepare – https://t.co/LkxFiyQbk8

— Rick Scott (@FLGovScott) October 8, 2018
I've directed @MyFDOT to suspend tolls effective immediately in the Northwest Florida region in preparation for Hurricane Michael.

— Rick Scott (@FLGovScott) October 9, 2018
The Florida Highway Patrol is pre-deploying 100 State Troopers to the Panhandle and Big Bend area of Florida in preparation for Hurricane Michael. These brave law enforcement officers will help save lives – we cannot thank them enough.

— Rick Scott (@FLGovScott) October 9, 2018
State offices, schools and universities were set to close on Tuesday and remain shuttered until the end of the week throughout the panhandle. Meanwhile, Alabama Gov. Kay Ivey issued a statewide state of emergency "in anticipation of wide-spread power outages, wind damage and debris produced by high winds & heavy rain associated with #HurricaneMichael," she said.
Alabamians, please remain weather aware as #HurricaneMichael is expected to start impacting AL as early as Tues night. Southeast AL is now under a TS Watch. I'll continue monitoring the storm & provide updates accordingly. Visit https://t.co/qiSfh4MnrY & https://t.co/m1l8XPLPyA. pic.twitter.com/zYZcSgby4b

— Governor Kay Ivey (@GovernorKayIvey) October 8, 2018
I've issued a State of Emergency in anticipation of wide-spread power outages, wind damage and debris produced by high winds & heavy rain associated with #HurricaneMichael. See the full SOE at https://t.co/ds8p3EQ6m4.

— Governor Kay Ivey (@GovernorKayIvey) October 8, 2018
After hammering the Gulf Coast, the storm is expected to make its way north along the east coast through hurricane battered North and South Carolina eventually traveling all the way to New England.
Conditions could begin to deteriorate as early as Tuesday night as Michael approaches the shore, according to the Weather Channel:
Landfall is most likely to occur somewhere between the Florida Panhandle and the Big Bend of Florida a few hours either side of midday Wednesday.
Conditions may begin to deteriorate as early as Tuesday evening on the northeastern Gulf Coast.
After landfall, Michael will then accelerate inland across the southeastern U.S. Wednesday night through Thursday night with gusty winds and heavy rain.
Michael could enhance rainfall in the mid-Atlantic and southeastern New England Thursday night and Friday.
The head of Alabama's disaster management agency said he's concerned about Michael's "cone of uncertainty" which means Alabama could still bear the brunt of the storm.
"I am concerned about the cone of uncertainty as Hurricane Michael is leaning west today," Alabama Emergency Management Agency Director Brian Hastings said in a statement Monday. "Residents and businesses in coastal Alabama must be vigilant and closely monitor the storm's path and be prepared for a major hurricane."
In Gulf County Florida, the first to begin ordering evacuations for residents of low lying areas, mandatory evacuation notices encompassed an estimated 3,800 homes.
Michael is expected to unleash coastal storm surges of up to 12 feet (3.7 meters) along Florida's Panhandle while dumping as much as a foot or more of rain across Florida, Georgia and South Carolina, according to the NHC.
As of 5 am ET, Michael's center was about 420 miles south of Panama City, Florida and 390 miles south of Apalachicola, Florida. The storm was moving north-northwest at 12 mph, while Hurricane-force winds extended outward up to 40 miles from the center and tropical-storm-force winds extended outward up to 195 miles. The storm's winds could drive "life threatening" flooding from the Florida panhandle and big bend region all the way through South Carolina and Georgia.
As it moves inward, the storm is expected to bring heavy rains as far away as New England later this week (courtesy of the WC):
* * *
– Rainfall totals of 4 to 8 inches are forecast from the Florida Panhandle and Big Bend into southeastern Alabama and south Georgia, according to the NHC. Locally up to a foot of rain is possible. This may cause life-threatening flash flooding in some areas.
– Eastern Georgia, the Carolinas and southern Virginia may pick up 3 to 6 inches of rain, potentially triggering flash flooding. This will include some areas devastated by flooding from Hurricane Florence. That said, this system is unlikely to stall like Florence did and will, therefore, not bring extreme rainfall amounts.
– The Florida Peninsula, eastern mid-Atlantic and southern New England coast may see 1 to 3 inches of rain.
* * *
Thanks to the excessive rains and winds, Michael could become the most powerful storm to strike the Florida Panhandle in a decade. For those who have chosen to ignore the evacuation order, Escambia County Sheriff David Morgan bluntly advised residents who choose to ride out the storm that first responders would not be able to reach them during or immediately after Michael smashes into the coast.
"If you decide to stay in your home and a tree falls on your house or the storm surge catches you and you're now calling for help, there's no one that can respond to help you," Morgan said.