This article was originally published by Tyler Durden at Zero Hedge
Rep. Eric Swalwell (D-CA) has decided to run for president on an anti-Second Amendment platform (while exhibiting a clear lack of understanding about guns), and has reiterated his desire to imprison Americans who don't hand over banned weapons. 
Appearing on CNN's "State of the Union" with Jake Tapper on Sunday, Swalwell – who last year joked about nuking gun owners who refuse to give up their firearms –  discussed his longstanding proposal to ban so-called 'assault weapons.'
TAPPER: So, gun control is the central plank in your campaign.You wrote last year — quote — "We should ban possession of military- style semiautomatic assault weapons. We should buy back such weapons from all who choose to abide by the law. And we should criminally prosecute any who choose to defy it by keeping their weapons." Criminal prosecution for keeping assault weapons. What's the punishment for people who don't hand in their guns? Do they go to jail?

SWALWELL: Well, Jake, they would, but I also offer an alternative, which would be to keep them at a hunting club or a shooting range. And the reason I have proposed this is because these weapons are so devastating.
Swalwell then displayed his ignorance over the difference between a 'rifle' and an 'assault rifle,' the latter of which is a term invented by the left.
"You know, keep your pistols, keep your long rifles, keep your shotguns," said the California Democrat, who added: "I want the most dangerous weapons, these weapons of war, out of the hands of the most dangerous people."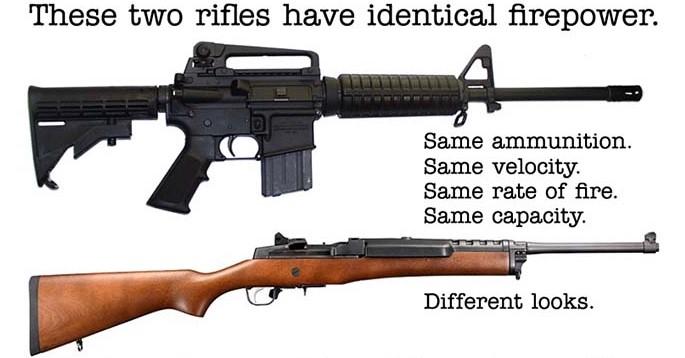 Anti-gun activists don't seem to understand that 'assault rifles' are functionally identical to other 'long rifles' as pictured above; both fire exactly one bullet each time the trigger is pulled, while neither can engage in burst fire or fully automatic fire unless illegally modified.
We're guessing he also calls magazines 'clips.'