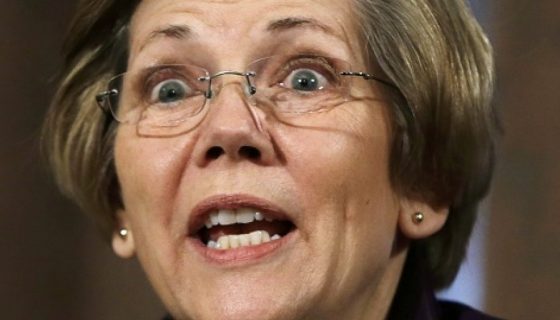 While many on the right have long claimed that liberalism is a mental disorder, it has, at the very least, been confirmed that at least one prominent Democrat is indeed crazy.
In a literal WTF moment, Sen. Elizabeth Warren (D-MA) has once again directly lied about her supposed Native American ancestry, this time in a speech in Washington, D.C. where she decided to repeat a lie that even President Trump has exposed.
"My mother's family was part Native American," Warren falsely claimed in a speech Wednesday to the National Congress of American Indians Tribal Nations Policy Summit in Washington, D.C.
Not content to simply lie to a group of actual Native Americans, Warren went on the laughably lecture them about the "real" Pocahontas, a reference to the nickname given to her by President Trump after it was initially revealed that she had totally made up her claims of Native American ancestry.
"I've noticed that every time my name comes up, President Trump likes to talk about Pocahontas. So I figured, let's talk about Pocahontas. Not Pocahontas, the fictional character most Americans know from the movies, but Pocahontas, the Native woman who really lived, and whose real story has been passed down to so many of you through the generations," Warren said, apparently unaware of the irony of lecturing actual Native Americans about a topic that she herself is actually lying about.
In May 2012, Breitbart News, along with multiple other, more mainstream outlets, conclusively proved that Senator Warren was directly and purposefully lying about her ancestry.
More than five years ago, in May 2012, Breitbart News reported there is absolutely no credible evidence to support Warren's false claim of Native American ancestry.

No documents support Warren's false claim, nor does any DNA genetic evidence back her.

"The New England Historical Genealogical Society, which originally announced they found evidence of Elizabeth Warren's Native American heritage, said today they have discovered no documentation to back up claims that she is 1/32 Cherokee," the Boston Herald reported in May 2012.

The Herald reported:

'NEHGS has not expressed a position on whether Mrs. Warren has Native American ancestry, nor do we possess any primary sources to prove that she is," said Tom Champoux, spokesman for the NEHGS. "We have no proof that Elizabeth Warren's great great great grandmother O.C. Sarah Smith [Crawford] either is or is not of Cherokee descent.'"

As Breitbart News reported, Warren does descend from O.C. Sarah Smith Crawford's husband, Jonathan Crawford, who was a member of the Tennessee Militia that rounded up Cherokee tribe members in the 1830s for the Trail of Tears to Oklahoma.

"You won't find my family members on any rolls, and I'm not enrolled in a tribe," Warren conceded, but added, " I never used my family tree to get a break or get ahead. I never used it to advance my career."

As Breitbart News reported previously, however, beginning in 1986 and continuing into 1995, Warren claimed that she had minority status in the Association of American Law Schools directory.

Those claims began while she was a faculty member at the University of Pennsylvania Law School and were part of her job application submitted that ended in her hiring on the faculty of Harvard Law School.

Warren also told another false story about her parents, one which Breitbart News debunked more than five years ago.
One has to wonder how on earth Warren expects the American people to believe her about any political topic when she can't even tell the truth about her own ancestry?