We stopped the bleeding, stabilized the economy, but the fact of the matter is the pace of improvement has not been where it needs to be.
-President Obama – September 2010
There's a disconnect somewhere – a huge one – between what President Obama is telling the American public, and what is actually happening on the ground. For the better part of his Presidency, Mr. Obama has argued that his policies, and those of a democrat Congress, have gotten the economy growing again. The President admits that things could be better, but it's nothing that a few trillion in deficits can't cure, after all, as Mr. Obama recently said at the unveiling of his $3.5 trillion 2012 budget, "the best antidote to a growing deficit is a growing economy."
It boggles the mind to consider that the President, his top advisers, and most in Congress believe that spending $3.5 trillion next year, on top of the roughly $23 trillion committed to stimulus and bailouts thus far, will yield a different result. Two years into this crisis nothing has improved – prices for essential goods are rising seemingly out of control, unemployment is up, government spending is up, our national debt is breaking records, poverty is up, food stamp participation is up, and the US dollar is being debased to the alarm of many international trading partners. What's occurring is exactly the opposite of what the experts forecast would happen.
Of course, if you're looking at the stock market, then things are not only on the mend, but investors are expecting explosive growth going forward. Why else would leading corporations be trading at 80 times their yearly earnings?
One often touted sign of recovery is the real estate market. Week-to-week, month-to-month, Realtors and real estate analysts look for anything that may be indicative of positive growth. Take April of 2010, for example. Many mainstream experts went ballistic when month-over-month home sales rose 27%, calling it a "grand slam" for the real estate market – the biggest single month sales boost in five decades. We didn't buy it, and neither did the majority of those who live in a little world we like to call reality:
Once the tax credits disappear, the stimulus ends, and these foreclosed homes start getting marked appropriately on bank books, it's all coming down – heck, it might come down before that. Expect real estate values to be destroyed. What's really going to hurt the real estate market, is that even though prices might fall 20% or more from here, mortgage rates are going up because of all the money printing and debt being created by Washington. This may make it twice as hard for housing to recover. Back in the early 80's mortgage rates were over 10% – hard to believe, but it can certainly happen again.
Nearly a year later, it's clear that the pom-pom shaking mainstreamers were wrong…again. Here's the chart that should make things crystal clear: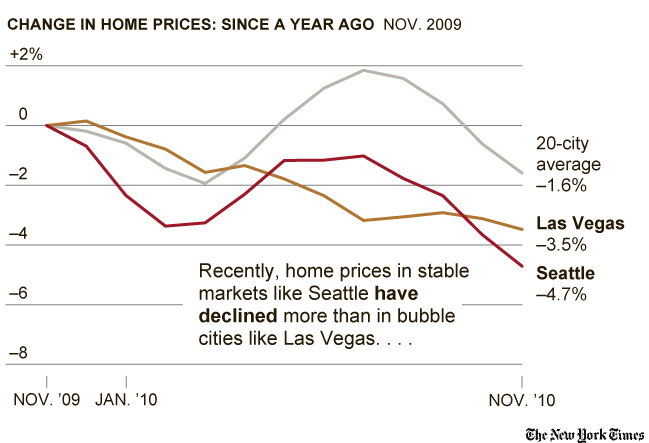 Las Vegas has been on life support since the very beginning, but what's most interesting is that Seattle, a housing market once thought to be immune to falling prices, has outpaced Vegas' losses from November 2009 through November 2010. And this once immune city is not alone, according to the New York Times:
Few believed the housing market here would ever collapse. Now they wonder if it will ever stop slumping.

The rolling real estate crash that ravaged Florida and the Southwest is delivering a new wave of distress to communities once thought to be immune — economically diversified cities where the boom was relatively restrained.

In the last year, home prices in Seattle had a bigger decline than in Las Vegas. Minneapolis dropped more than Miami, and Atlanta fared worse than Phoenix.
The above chart should provide ample evidence that the trend in real estate prices has not reversed and continues to decimate homeowners around the country. It was somewhat subdued last year, with prices falling just 1.7%, and this has some real estate analysts and forecasters suggesting that recovery is just around the corner:
The bubble markets, where builders, buyers and banks ran wild, began falling first, economists say, so they are close to the end of the cycle and in some cases on their way back up. Nearly everyone else still has another season of pain.

…

While almost every economist is expecting another round of price declines for the next few months, many see a leveling off in the second half of the year. Fiserv, the company that produces the monthly Case-Shiller Home Price Indexes, analyzed prices in 375 communities. About three-quarters of them will be stable by December, Fiserv calculates.
By this time next year, if the experts are to be believed, we can expect housing to be rebounding full force. Of course, the experts didn't see the real estate bubble in 2006 and 2007, and home buyers who purchased during the peak have since lost over 30% on the value of their homes, with many having already gone through foreclosure or in the process of default today.
While our elected officials and the Federal Reserve continue to take steps to "stabilize" prices, the question that becomes apparent is: what is a stable home price? Should a house today be priced at 2006 peak prices, or should we be utilizing a different pricing model?
What the experts in the real estate industry believe stable prices should be, and what the free market dictates are two complete different things. The following chart should shed some light on this: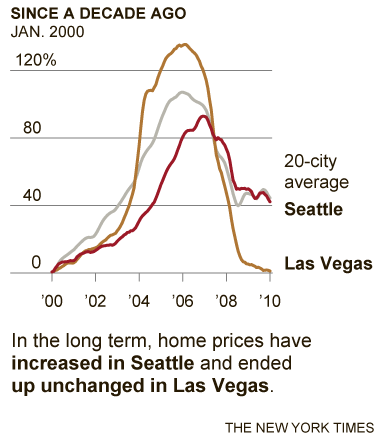 From the year 2000 to the peak in 2006, home prices saw an average rise of around 100%, however, we didn't hear anyone screaming about price stabilization then.
Now that nature has taken it's course, everyone is up in arms. Based on this chart, prices in Las Vegas are unchanged and your house would be worth the same today as it was in 2010. In Seattle and the rest of the country, you'd still be ahead. But more important than how great everyone is doing over the last ten years, this chart gives us insight into the potential floor in real estate.
In previous commentaries we have opined that from peak to trough the US real estate market may experience price declines of up to 75%. That may seem like an overestimation, but when one considers the meteoric rise in prices over just half a decade – and the historical example of Japan's real estate market, which was at one time the fastest growing market in the world and subsequently collapsed over around 80% over the last 20 years – the plausibility of such an occurrence in the US cannot be denied.
A number of factors are at play, and it makes us wonder whether the experts have taken any time to consider them. Unemployment, of course, is the elephant in the room. And as we have pointed out previously, there is absolutely no recovery in the jobs market, and there won't be anytime soon. We can expect unemployment to continue rising (unofficially, of course, because the numbers we get from the government are pure conjecture).
Secondly, and just as deadly for the real estate market as people without work, are interest rates. As the US dollar continues to lose value and credibility globally, interest rate rises are inevitable. The early 1980's saw mortgage rates in excess of 15%. Predicting how high rates will go is difficult due to the machinations from the Federal Reserve, but using history as a guide suggests that rates are headed up – way up. And this does not bode well for buyers – or sellers. Gonzalo Lira points out, in Inflation, Hyperinflation and Real Estate, that this will likely be the primary reason for why, even during an inflationary environment, real estate prices may continue to crash:
How does inflation and hyperinflation affect credit? By driving up interest rates—obviously. But what is the effects of rising interest rates in an inflationary/hyperinflationary environment?

Real estate price collapse.

Lenders—on seeing prices rising and purchasing power deteriorating in an inflationary economy—naturally raise the interest rate they charge, on the future expectation of inflation during the period of their loan. Obvious: If I lend money for a year, and expect the inflation rate to be 10% for that year, I'll naturally lend out my money at 15% interest—or more, if I think inflation is accelerating.

Borrowers on the other hand—on seeing interest rates rise, while their wages and salaries are at best playing catch-up to rising prices—curtail their borrowing: They either borrow less, or don't borrow at all.

Therefore, real estate sellers—who depend on lenders to provide their buyers with credit in order to sell their properties—are forced to lower their prices, in order to attract buyers. Law of supply and demand: They cannot force up the price of their real estate to match the pace of inflation, because if they do, they will simply not have any buyers.
Imagine real estate like a pendulum and you may get a better image of what's to come. The pendulum swung from 'stability', where the average home price was in the $150,000 range in 2000, upwards of $250,000 in most cases. Now, the pendulum is swinging back – it's rebalancing. It won't stop at $150,000, however, but will continue to swing to the opposite extreme. Thus, not only is there a significant probability that we will drop to the average prices we saw around the year 2000, but we may swing much further the other way before the pendulum comes to rest back at what we could term 'stability.'