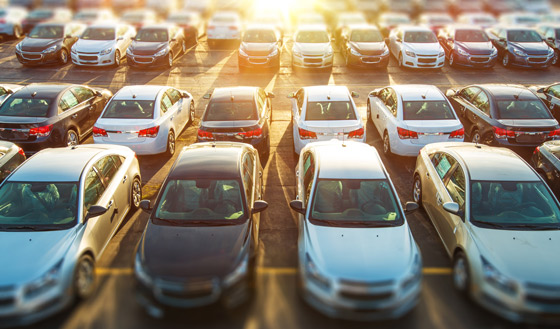 A new report is saying that new car sales took a nosedive in September, signaling economic distress could be just around the corner. The downward trend in the United States is being blamed on two hurricanes, while the slump in sales in the United Kingdom is being blamed on carmakers' difficulty meeting emissions regulations.
Major automakers on Tuesday posted a hefty drop in U.S. new vehicle sales for September, caused in part by a decline in sales in areas hit by Hurricane Florence and a tough comparison to the previous September when consumers rushed to replace vehicles damaged by Hurricane Harvey, reported Reuters.
Ford Motor Company on Tuesday reported an 11.2 percent drop in sales, with declines in every major category. Sales of sedans were down nearly 26 percent. However, Fiat Chrysler Automobiles bucked the trend for the month, reporting a 15 percent jump in U.S. sales. This was due to increases in sales of its infamous Jeeps, notably the Cherokee and Compass models, and Ram pickup trucks.
"September was a bloodbath for cars," Cox Automotive analyst Michelle Krebs told reporters on a conference call. "They dropped like a rock," Krebs said of Americans and the long-standing trend of abandoning smaller cars for larger and more comfortable SUVs and pickups.
Meanwhile, in the United Kingdom, the number of total vehicles registered was down 20.5% on the same period in 2017 at 338,834, the Society of Motor Manufacturers and Traders said according to the BBC. Carmakers had struggled with "a raft of upheavals" including adjusting to stricter emissions standards, the society added. It also said that the impact of the sales plunge was felt across the board, with registrations by private consumers, fleets, and businesses all sharply declining. Sales of petrol and diesel cars fell, but those of hybrids and plug-in electric vehicles actually rose by a meager 3.9%.
According to Reuters, the slump in new car sales is expected to continue too. After a strong first half of the year while in an economic bubble of epic proportions, U.S. new auto sales are expected to dip in the second half of 2018. Rising interest rates, in particular, translate into higher monthly car payments and push more Americans toward buying used vehicles.
"It was a tough comparison for sales year-over-year, but otherwise the month was very solid for us with some bright spots," said Billy Hayes, Nissan's vice president for regional operations in North America. "We're still extremely bullish and we're feeling very good about the rest of the year."