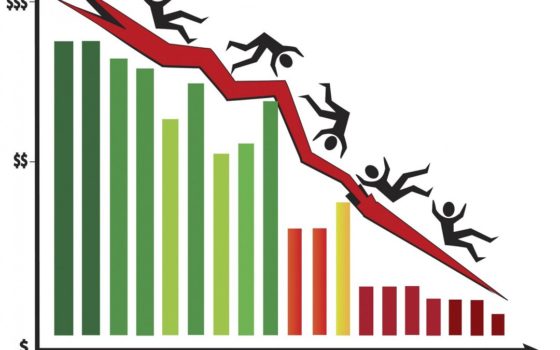 In just the past two years, the chances of a recession have doubled, according to a note written Tuesday by the Guggenheim Partners.  As economic indicators continue to deteriorate, and Americans load up on debt, the raw truth about the state of the United States economy is slowly surfacing.
"The next recession will not be as severe as the last one, but it could be more prolonged than usual because policymakers at home and abroad have limited tools to fight the downturn," the team, led by Chief Investment Officer Scott Minerd, said in the note. Minerd's group at Guggenheim oversees more than $200 billion.
According to Bloomberg, Guggenheim made a few other predictions as well, including one that claims credit markets may be hit harder than usual in a downturn because of the high ratio of corporate debt and the likelihood of "a massive fallen angel wave."
While a recession could begin as soon as the first half of next year, some claim that a more dovish pivot by the Federal Reserve could extend the current growth cycle. Even if the Fed CAN extend the time we have BEFORE the next recession, it'll amount to nothing more than kicking that proverbial can down the road.  And eventually, the Fed is going to miss the can and kick a rock and the whole bottom will fall out of the debt-based economy.
Guggenheim also predicted that a 50% drop in market values could happen during the next recession too, thanks to the high values we have presently.
Other economic experts have expressed that it is difficult to predict WHEN any economic recession will occur, but one thing is for certain, we will live through another one. Most Americans have not financially recovered from the last recession, as personal net worth is now lower than it was before the crisis. And as the nation increasingly relies on debt to fund their consumerism and overspending, any uptick in interest rates could crash the entire debt-based system.
According to Forbes, the recession still looms. We are not out of the woods yet, so to speak, but how you prepare yourself and your personal finances for an economic downturn will make all of the difference. As most are choosing to pile up the debt right now, consider eliminating yours.  Get rid of those payments and build a savings account that can help protect you against a job loss or pay cut.