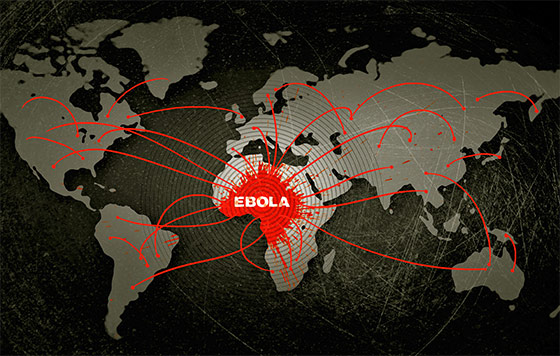 Last week three suspected Ebola infections were detected in a remote region of the Congo. Since then, World Health Organization officials have been scrambling to contain the virus.
Their efforts appear to have failed.
The contagion continues to spread, and though it's nowhere near the 11,000 people who were infected during the outbreak in 2014, the infection rate has spiked over 800% in just the last seven days, with at least nine new cases reported in the last 24 hours:
The number of suspected cases of Ebola has risen to 29 from nine in less than a week in an isolated part of Democratic Republic of Congo, where three people have died from the disease since April 22, the World Health Organization said on Thursday.

…

The risk from the outbreak is "high at the national level," the W.H.O. said, because the disease was so severe and was spreading in a remote area in northeastern Congo with "suboptimal surveillance" and limited access to health care.

"Risk at the regional level is moderate due to the proximity of international borders and the recent influx of refugees from Central African Republic," the organization said, but it nonetheless described the global risk as low because the area is so remote. (NY Times)
The 2014 outbreak likewise started in a remote region of Africa, but containment efforts were ineffective and the virus eventually spread to the United States and Europe.
***
According to W.H.O., about 400 people have come into contact with the 29 people infected and officials are attempting to track them down for monitoring.
Protective gear has been dispatched to health workers and a mobile lab is being constructed and then deployed to the area. Immediate repairs to air strips and telecommunications are also being carried out. The first six months of the operation are expected to cost $10 million…

…

With the help of the UN, the first search teams, led by the DRC's Ministry of Health, flew into Likati yesterday. Their immediate priority is to follow the 400 plus contacts of the suspected Ebola cases. (U.N. News Centre)
As we learned in 2014, all it takes is one infected individual to make it through an airport checkpoint.
With international travel via airports, trains and cars available throughout the region, a single infected individual on an airplane could infect scores of others, who in turn could infect scores more.
The following Ebola model from Yaneer Bar-Yam, who has successfully simulated and predicted such events as the rise of the Arab Spring, shows how an Ebola contagion may look.
The above model is based on Ebola's current infection rates and doesn't take into account its possible evolution as it spreads from human-to-human.
According to scientists, the 2014 strain began hyper evolving, to the point that had it not been contained and continued to spread through human contact, it could have gone airborne, making it as easy to catch as a common cold.
In response to this unprecedented threat, US government officials began preparing for mass casualties, reportedly going so far as to develop plans for Community Care Centers where infected individuals, or those suspected of infections, would be detained indefinitely.
As the Ebola contagion spread across the globe, the panicked populace rushed to stockpile emergency supplies like freeze dried foods, bio-protective body suits and gas masks.
The concern, of course, was that a virus with a 90% fatality rate after infection would make its way to local American communities. As Tess Pennington notes in her Pandemic Preparedness Guide, once it's within 50 miles of where you live, it's time to worry and take immediate steps to isolate your family from the threat, because most people won't realize how serious of a situation they are in:
Looking back at the Black Plague, those living in high populated areas were hit hardest by this pandemic.  The Black Death is estimated to have killed 30–60 percent of Europe's population. Given our vast array of transportation systems, modern society causes infectious disease to spread far more rapidly compared to any other time in recorded history; and because pandemics are fast moving, vaccinations would be useless. Further, in regards to the world's transportation system, the morbidity rate in a future pandemic could result in millions seeking medical care at the same time thus overwhelming hospitals and emergency departments.

…

When an outbreak occurs, many will remain in a state of denial about any approaching epidemics. Simply put, most people believe themselves to be invincible to negative situations and do not like the idea change of any kind. They will remain in this state until they realize they are unable to deny it to themselves any longer. Being prepared before the mass come out of their daze will ensure that you are better prepared before the hoards run to the store to stock up.
Perhaps containment procedures being implemented in the Congo by W.H.O. will be more effective this time around than they were in 2014.
But what if they're not? What if the virus mutates and goes airborne?
Plan accordingly.
Related:
The Prepper's Blueprint: A Step-By-Step Guide To Prepare For Any Disaster
Bio, Chem, Nuke – Full Body Suit