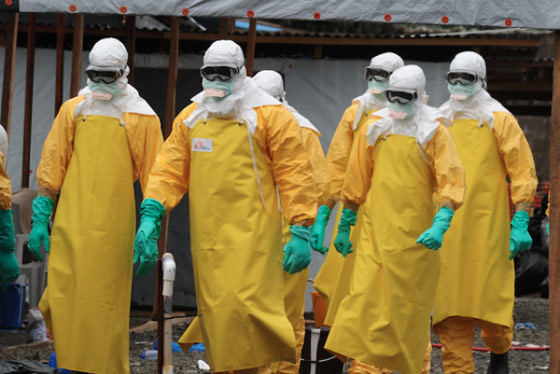 The Ebola outbreak in the Democratic Republic of Congo (DRC) has been officially declared a global health emergency. The World Health Organization (WHO) issued the order as the virus has been almost impossible to contain and has infected more than 2,500 people and killed nearly 1,700.
This is the second-largest Ebola outbreak in history after the one in West Africa in 2014-15, which infected 28,616 people and caused 11,310 deaths. This particular Ebola outbreak is now over a year old, and health officials saw an emergency declaration coming.  People continue to become infected and die. As of Wednesday, in a formal declaration that many public health experts called long overdue, WHO says this is becoming a concern. "This is still a regional emergency and by no way a global threat," said Robert Steffen of the University of Zurich, chairman of the WHO emergency committee that recommended the declaration, according to The New York Times. 
Several factors forced the panel's hand when making this declaration. The infectious disease reached Goma, a city of nearly two million people; the outbreak has raged for a year; the virus has flared again in spots where it had once been contained, and the epidemic hot zone has geographically expanded in northeastern Congo near Rwanda and into Uganda.
https://www.shtfplan.com/headline-news/ebola-stricken-man-takes-bus-to-drc-travel-hub-with-2-million-residents_07162019
Violence against health workers has also been a constant worry for those working to contain the virus and attacks intensified after two Congolese workers were killed in their homes in Beni last week.
Officials are also puzzled by the fact that their "highly successful" and extensive use of an experimental vaccine seems to not be having much of an effect on this outbreak. 
Emergency declarations are issued sparingly, reserved for outbreaks that pose a serious threat to public health and could spread to other countries. Only four such declarations have been made in the past: in 2009, for pandemic influenza; in 2014, for a polio resurgence in several countries; in 2014, for the Ebola epidemic in West Africa; and in 2016, for the Zika virus epidemic. –New York Times
Dr. Tedros Adhanom Ghebreyesus, the director-general of the WHO, has described this outbreak as one of the world's most dangerous viruses in one of the world's most dangerous areas. Public health experts warn that the implacable spread of the virus means the outbreak could easily continue well into next year.
Ebola. Even the name of the virus conjures up mental images of a gruesome, agonizing, bloody death. Anyone who has scanned the news headlines lately has, at the very least, an inkling that a horrible disease is on the loose. It's anyone's best guess how soon this becomes a pandemic on American soil. While the Center for Disease Control and the World Health Organization have both expressed serious concerns that we are on the brink of disaster, border enforcement agencies seem blithely unconcerned. It's really up to you to protect your family. This is a collection of some of the best information in the preparedness community to help keep you and your family safe throughout this potential pandemic. Checklists are provided at the end of the book to help you gather the necessary supplies quickly and efficiently. –Ebola Survival Handbook: A Collection of Tips, Strategies, and Supply Lists From Some of the World's Best Preparedness Professionals