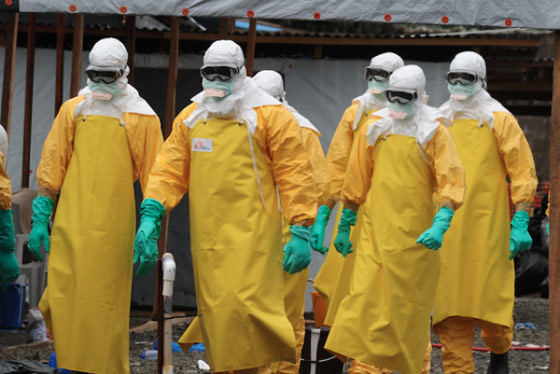 Nearly 100 children have died in during the most recent Ebola outbreak in the Democratic Republic of Congo.  Health officials are warning that it isn't over yet as the disease continues to infect more people and spread further.
"We are at a crossroads," Heather Kerr, Save the Children's Country Director in DRC, said in a press release. "If we don't take urgent steps to contain this, the outbreak might last another six months, if not the whole year." According to the press release from Save the Children, 65 of the 97 children who have died since August were under the age of 5 years old. More than 180 other children have been orphaned by the disease's most recent outbreak.
This outbreak is the second-largest in recorded history, with the charity reporting at least 731 confirmed cases of Ebola within the last six months, and 484 deaths. The country suffered its worst outbreak between 2014 and 2016, which claimed over 11,000 lives and prompted calls for more preventative efforts and the development of an experimental vaccine. However, the lack of Ebola knowledge continues to plague relief efforts. –Fox News
This outbreak has also prompted health workers to begin administering an experimental Ebola vaccine. But questions about its efficacy have arisen lately, as the Associated Press reported that some of those who have received the experimental vaccine have also become infected with the deadly Ebola virus. More than 70,000 people have received an experimental Ebola vaccine, and Merck, the creator of the vaccine, says they have plans to ship 120,000 more doses to the DRC by the end of February.
The culture in the DRC is playing a role in the virus's quick spread as well. "People have disrupted funerals because they didn't believe the deceased had succumbed to the virus," she said in the press release. "Aid workers were threatened because it was believed they spread Ebola. We have to scale up our efforts to reach out to the vocal youth and community leaders to build trust and to help us turn this tide. Treating the people who are sick is essential, but stopping Ebola from spreading further is just as important."
The Associated Press further reported that the outbreak, which is mostly afflicting the eastern region, is nearing Goma, a major border city with a population of over 1 million. Adding to the confusion, cases are still emerging without any link to any confirmed ones, a sign of how difficult it is to track the virus.
With government and health organizations failing to contain the virus up to this point, Ebola spreading into Europe and the United States becomes a real possibility. In such an instance preparing for the worst case scenario may require self-containment within clean rooms in one's home, as well as biological-rated gas masks and air filtration.