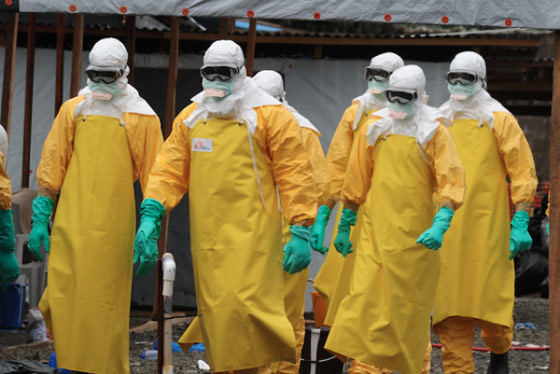 The Democratic Republic of Congo's current Ebola outbreak is the nation's 10th in 40 years.  It was officially declared an outbreak on August 1, shortly after the end of a previous outbreak in the country that claimed 33 lives.
As of October 15, the World Health Organization has recorded 181 confirmed cases of Ebola, as well as 35 suspected cases. Unfortunately, this particular outbreak appears to be the "perfect storm," according to Dr. Peter Salama, WHO Deputy Director-General for Emergency Preparedness and Response. "A perfect storm" of active conflict and civil unrest in the region are making it even more difficult to contain this deadly virus, Salama said. "We are now extremely concerned, that several factors may be coming together over the next weeks to months to create a potential perfect storm. A perfect storm of active conflict, limiting our ability to access civilians, distress by segments of the community, already traumatized by decades of conflict and of murder…We've seen attacks now on August 24, September 3, 9, 11, 16, 21 and most recently and most dramatically September 22 in the city itself of Beni," Dr. Peter Salama said. He also said that Beni was the base for the agency's base for the "entire operation."
The disease appears to be spreading in the Beni, Butembo, and Mabalako health zones, according to a recent WHO report on this outbreak.
The World Health Organization (WHO) will meet Wednesday (today) to determine whether the worsening Ebola outbreak in the DRC constitutes a public health emergency of international concern. According to Time, the meeting is set to be held at the United Nations' headquarters in Geneva and comes about a month after the WHO upgraded Ebola's risk level in the DRC from "high" to "very high," according to a UN statement.
As of now, the global risk was deemed low by WHO and the organization did not recommend limiting travel or trade in and out of the DRC. But depending on the conclusion of Wednesday's emergency meeting, that designation may soon change.
While no cases of the virus have been confirmed outside the DRC, according to the WHO's most recent case report, one was confirmed near the Ugandan border in late September. The WHO and the Ministry of Health are keeping a close eye on countries that share borders with the DRC, including Uganda, Rwanda, and South Sudan.
"The EVD outbreak in the Democratic Republic of the Congo remains at a critical juncture due to the prevailing security threats, community reluctance and increased geographical spread," the WHO case report says. "Response teams continue to face challenges that require ongoing community engagement efforts, as well as the ability to adapt strategies according to context."