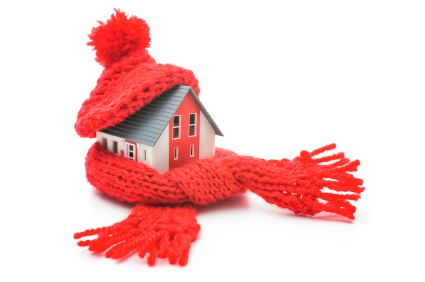 We can all use a little extra money, especially during the holiday season.  But with winter already here, most of us have already experienced higher energy costs. Fortunately, there a few easy ways you can save some money on your heating costs this winter.
Lower the Thermostat – While it's easy to want to be cozy and toasty while there's a blizzard going on outside, it will save you quite a bit of money to drop your thermostat only a few degrees. The savings amount to up to 3% on your heating bill per degree lowered over a 24 hour period (or about 1 percent per 8 hours). During the winter months, I keep our thermostat set at 68 during the day and 60 at night. Play with these numbers to see what works for you.  Some people go as low as 55 at night! If you aren't at home during the day, lower it even more and if you have children or babies, bump the thermostat up at night. I also recommend a programmable thermostat. This way you are in complete control of when your house is warmer or cooler and to what degree.
Keep all vents and radiators clear – Ensure your vents are not blocked by rugs or furniture, or that you don't have any large objects in front of your radiator. This allows the air to circulate freely and you to get the full benefit of the warm air and put less strain on your furnace. This is also safer!
 Close Your Curtains – Around 10-25% of your house's heat loss can be attributed to your windows. To reduce this, open curtains and shades on south-facing windows during daylight hours to allow the sun's heat to enter your house and warm it. Keep all of your curtains and blinds closed at night and when the sun is not shining on them. This will help to insulate your house and keep the heat trapped inside. You can put blankets over uncovered windows and drapes, especially at night when they are not being used and when the temperature is at its coldest.
Seal Any leaks – Most houses leak at least some.  But if you seal most of these leaks, you can save between 10-20% on your heating bill this winter. To detect leaks, wait until it is cold outside. You will probably need at least a 30-degree difference in the indoor/outdoor temperatures to notice any drafts. Common areas where leaks occur include around doors, windows, near the attic, where wires and cables enter your house, and around electrical outlets. Seal gaps around any pipes, wires, vents or other openings with caulk or weather stripping.
Add Some Insulation – This is pretty self-explanatory, but if you do decide to take this step, not only will it save you money, but it can also be a tax-deductible home improvement that will give you an even better return for your investment!
Any little bit helps when it comes to saving money! Hopefully, these tips will be helpful to those who are cash strapped, want extra money to spend for Christmas, or who want to beef up their prepping supplies during those sale weeks after the holiday!
This article contains affiliate links.