This article was originally published by Arsenio Toledo at Natural News under the title: VACCINE GENOCIDE: Dr. Peter McCullough says COVID vaccines have now killed more Americans than World War I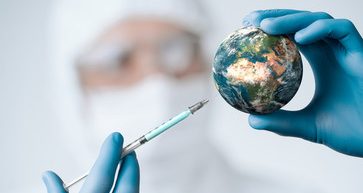 Epidemiologist and cardiologist Dr. Peter McCullough warned that more Americans were killed by the Wuhan coronavirus (COVID-19) vaccine than some of the wars involving the United States.
McCullough made this claim while speaking at the COVID-19 Town Hall of OPTIMIST Bahamas on April 8.
OPTIMIST, which stands for Offering Preventing Therapeutic Interventional Medicines Increasing Safety and Trust, is an organization of doctors, other healthcare professionals, lawyers, and concerned individuals who do not want countries to rely on the "vaccine only" strategy for dealing with the COVID-19 pandemic.
According to its website, OPTIMIST does not want to be called "anti-vax." The group added that its only goal is to educate the public about alternative preventative measures and treatment strategies for dealing with the coronavirus. This includes the potential use of banned treatments and therapeutics like ivermectin.
"Strategically targeting each phase of the COVID-19 disease (contraction, incubation, acute illness, and recovery) is vital," wrote the organization on its website.
COVID vaccines have killed thousands of Americans
As evidence for his claim, McCullough used multiple scientific papers showing America's accurate death count from the experimental and deadly COVID-19 vaccines. He argued that the actual death count is likely significantly higher than what is documented in the Vaccine Adverse Event Reporting System (VAERS), the federal government's program for collecting reports of injuries and deaths caused by all vaccines. (Related: Global pandemic of the vaccinated gets worse as more people take deadly shots.)
"[A paper] concluded that the upper bound of a confidence interval for death could be as high as 187,000 Americans losing their life after vaccination. It could be that bad," he said.
For comparison, around 116,000 Americans died during World War I. The only other American wars that have more fatalities than the COVID-19 vaccine are World War II and the Civil War, where around 405,000 and 655,000 Americans died, respectively.
Citing data from the federal government's VAERS program, McCullough explained how many of the severe adverse reactions to the vaccine originated in many parts and organs of the human body where COVID-19 vaccine particles were found.
"I can tell you, looking at this VAERS report with 12,000 Americans who have died, voluntarily after taking an injection, the COVID-19 vaccine is worse than a war," he said. "It's worse than most wars."
McCullough added that "86 percent of the time the report is made by a doctor, a nurse or a healthcare professional who thinks the vaccine caused the problem. He is referring to a recent analysis of COVID-19 vaccine death reports submitted to VAERS.
The most recent analysis includes data released on VAERS on April 8 and is updated through April 1. According to the data, VAERS has received a total of 12,298 reports regarding COVID-19 vaccine-related deaths
If McCullough's analysis of the recently published scientific papers is correct, this means VAERS has only recognized less than one-fifteenth of the actual number of deaths in the U.S. due to the COVID-19 vaccine.
Learn more about the COVID-19 vaccine casualties in America by reading the latest articles at VaccineDeaths.com.
Watch Dr. Peter McCullough's entire talk during the OPTIMIST Bahamas COVID-19 Town Hall below.