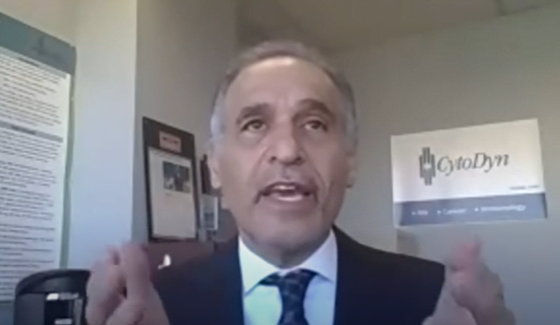 Dr. Nadar Pourhassan recently sat down with Crush the Street's Kenneth Ameduri to discuss the medical developments put forward that could be effective in treating Covid-19. A "miracle" drug when it comes to the treatment of COVID-19 could soon become widely available.
Dr. Pourhassan said treatments are for respiratory distress syndrome because that's what people actually die of it they get COVID-19. The doctor discussed the use of leronlimab by one who doctor who administered the drug to two patients who would have otherwise died, as there was nothing left to do to help them. One immediately came off the ventilator.
Mom Survives COVID-19 After Being Given Experimental Drug, As Mandatory Vaccine Agenda Moves Forward
Discussion of efficacy tested on patients in critical conditions. The FDA is showing favor about the efficacy of a drug that has been described as a "miracle" when it comes to COVID-19 treatments.  It's called Leronlimab.
Watch the entire discussion in the video below:
Unfortunately, the trust in big pharma is waning, and it's going to take a lot to regain the trust of the public. Especially after the COVID-19 outbreak, which a majority of Americans believe the government overhyped in order to push a mandatory vaccine on them.   Dr. Pourhassan says his company is up to the challenge.
CytoDyn believes in the future of precision medicine… more specificity, less side effects. Our target, the CCR5 receptor, has been implicated in multiple disease processes from HIV, GVHD, NASH, stroke recovery, multiple sclerosis, Parkinson's disease, to metastatic cancer. Leronlimab, our CCR5 antagonist, is a once a week, subcutaneous injection. One molecule with multiple opportunities. With precision comes the opportunity for improved safety, convenience, and enhanced efficacy for the patient. -CytoDyn.com
In a Not-So-Shocking Poll: Americans Hate The Government Almost As Much As They Hate Big Pharma. And that poll was taken on before the COVID-19 scare was around.
The trials of leronlimab as a treatment for the respiratory distress that is the cause of death in those who do happen to die of COVID-19 (and not some other underlying health condition) are ongoing, says Dr. Pouhassan.  At least, if there's some kind of medicine that can help, such as hydroxychloroquine and likely leronlimab, people may be able to calm down and release some of their fears about being around others.
It could be a good step towards helping people realize a vaccine isn't necessary, because other effective treatments are available, and they have the choice of how to treat COVID-19 if they do happen to contract it. Choices are what the public has been craving, so this is a step in that direction.