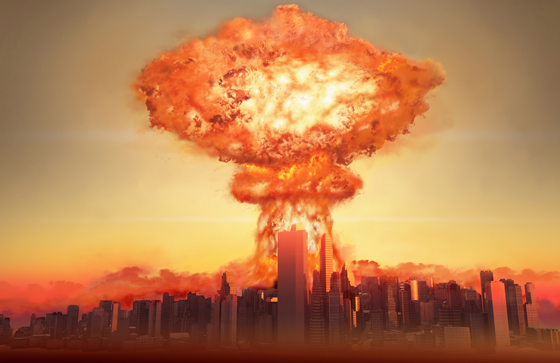 Citing advancements in North Korea's nuclear program, scientists have moved the doomsday clock closer to midnight, the symbolic time of the apocalypse. This is the closest the clock has ticked toward a doomsday scenario.
The Bulletin of Atomic Scientists, which has been tracking the threat posed by nuclear weapons and other technologies since the 1940s, moved the second hand forward on their Doomsday Clock, which brings the world closer to its symbolic apocalyptic midnight by 30 seconds.
"It is with considerable concern that we set the time of the 2018 doomsday clock and offer a plea to rewind the doomsday clock," said Bulletin of Atomic Scientists President and CEO Rachel Bronson. "As of today, it is two minutes to midnight." "Whenever the clock is set, we answer two basic questions," Bronson, said in an interview last fall. "Is the world safer, or at greater risk than it was a year ago? And is it safer or at greater risk than it was ever in the clock's history?"
In 2017, the board moved the clock from three minutes to midnight, to two and a half minutes to midnight. The furthest the clock has been from midnight is 17 minutes back in 1991.
Bulletin officials Lawrence M. Krauss and Robert Rosner wrote in an op-ed published Thursday by The Washington Post. "In fact, the Doomsday Clock is as close to midnight today as it was in 1953 when Cold War fears perhaps reached their highest levels." Krauss, a theoretical physicist, and Rosner, an astrophysicist, added: "To call the world nuclear situation dire is to understate the danger — and its immediacy. North Korea's nuclear weapons program appeared to make remarkable progress in 2017, increasing risks for itself, other countries in the region and the United States."
Over the past few years, tensions with North Korea have continuously seemed to reach the breaking point. Yet, no nation has taken the initiative to nuke the other, just yet. The advancement of time on the doomsday clock indicated that the scientists on the Bulletin of Atomic Scientists believe that that very scenario could be just around the corner.