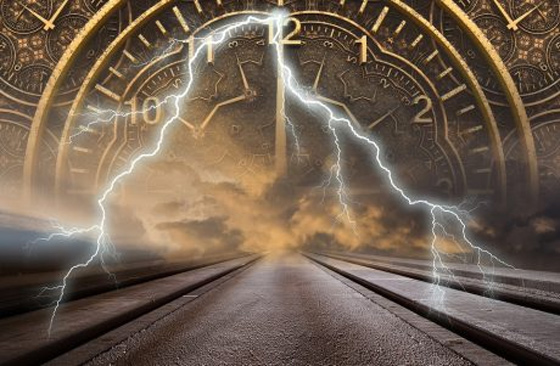 Scientists used the "Doomsday Clock" to warn humanity of Earth's pending demise on Thursday when they moved the time closer to midnight.  For those unaware, midnight is the "end of humanity" as we know it or the apocalypse.
The clock is now set at 100 seconds to midnight. It's the first time the clock has been set within the two minute mark. According to NBC News, scientists cited accelerated global warming and a nuclear war threat as two of the factors in their decision.
The likeliness of a human-caused apocalypse is increasing, say the scientists. "We have normalized a very dangerous world in terms of the risks of nuclear warfare and climate change," Robert Rosner, chair of the Bulletin's Science and Security Board, said in a public briefing.
The Bulletin of Atomic Scientists was founded in 1945, and the group has maintained the Doomsday Clock since 1947. Each year, the organization consults with a board of sponsors that includes 13 Nobel Laureates to analyze a range of threats to determine whether the Doomsday Clock's hands should be adjusted. –NBC News
Doomsday Clock Ticks Closer To The Time Of The Apocalypse
"Today the Bulletin of the Atomic Scientists moves the hands of the Doomsday Clock. It is 100 Seconds to Midnight," — @RachelBronson1, President & CEO, Bulletin of the Atomic Scientists#DoomsdayClock pic.twitter.com/bxlf9TvEZu

— Bulletin of the Atomic Scientists (@BulletinAtomic) January 23, 2020
There were mixed reactions to the doomsday clock announcement too.
I remember 1962 – when it was 1 second to midnight…

The Cuban Missile crisis…

I wonder how today's Snowflake generation

would have dealt with that…

Nuclear Annihilation expected AT ANY MOMENT..!

LITERALLY!

Now that was REALLY terrifying..!

— CuddlyToyNo1 ?? Living It Up in the Cupboard ? (@no1_toy) January 23, 2020
Everyone knows it's not really scientific. It's supposed to make people realize that we're not gonna live forever if we keep doing what we are. It's supposed to warn and remind us

— helmuska ?????️‍??️ (@helmuqz) January 23, 2020
Soros-Linked Group Joins MSM To CENSOR And PURGE Climate Change Skeptics on YouTube
Facebook Glitch Reveals Greta Thunburg's Father Posting As Teenage Climate Activist
Don't get us wrong, actions should be taken to leave the Earth in better condition than when we got here, however, pandering to your master and begging them to do something about it when they are the largest problem is delusional and proof that slaves are easily manipulated so the ruling class can remain in power.
https://www.shtfplan.com/headline-news/americans-are-too-idiotic-to-see-how-enslaved-they-are-even-as-the-gates-of-hell-open-up_04132017