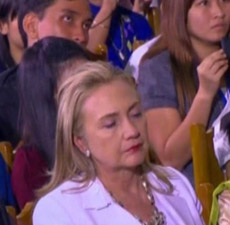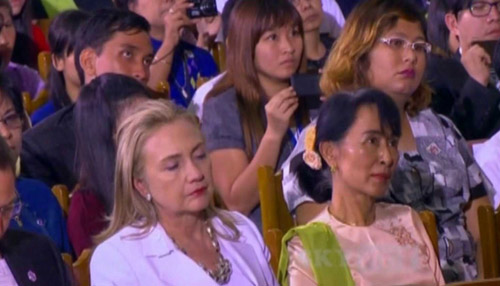 (Secretary of State Hillary Clinton dozes off during a speech by President Obama)
For months Donald Trump has bestowed the "Crooked Hillary" moniker upon the Democratic Presidential candidate with what appear to be very damaging results to her credibility and honesty.
Always one to entertain, and often without a script, Trump has a couple of new nicknames he recently threw into the mix.
First, knowing how effective the label was when applied to Jeb! Bush, Trump referred to Hillary as not just "low energy," but noted that she is a "napper" who simply doesn't have the ability to deal with the nation's pressing issues:
"She's low energy. She actually is low energy," Mr. Trump said at a Monday afternoon campaign stop in Roanoke, Va. "She'll go home, she'll take a nap for four or five hours and then she'll come back. No naps for Trump! I don't nap. We don't have time. We don't have time."

It's not the first time Mr. Trump, 70 years old, has accused Mrs. Clinton, 68 years old, of not maintaining what he believes to be sufficient stamina. In December he told Fox News that Mrs. Clinton "goes to sleep" on the campaign trail.

Source: WSJ
That nickname is arguable, however, because the American public knows well that Hillary Clinton is extremely high energy when being driven by  millions of dollars in "pay-to-play" donations to the Clinton Global Initiative. As highlighted in the recent Clinton Cash documentary, Hillary appears to be everywhere so long as there is a financial interest.
Which brings us to Trump's second new nickname for the leftist candidate:
For years, she chose to use the name Hillary Rodham Clinton.

"Why did she get rid of it? Hillary Rotten Clinton, Rotten Clinton. Hillary Rotten Clinton, right?" Trump told the crowd.

"Maybe that's why, it's too close."

Trump has repeatedly referred to Clinton as "Crooked Hillary."

The event was held in the home state of Clinton's new running mate, Sen. Tim Kaine, whom Trump derided as a "weird little dude" and a political "hack."

Source: NY Post