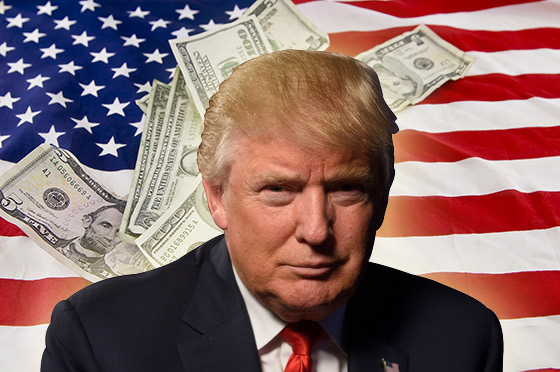 President Donald Trump is celebrating the fact that he's a thief and glorifying in his ability to steal money via way of tariffs/taxation. Earlier today, Trump tweeted that he's the "tariff man" and he is "taking in $billions in tariffs" right now.
https://twitter.com/realDonaldTrump/status/1069970500535902208?ref_src=twsrc%5Etfw%7Ctwcamp%5Etweetembed%7Ctwterm%5E1069970500535902208&ref_url=https%3A%2F%2Fwww.rt.com%2Fusa%2F445551-i-am-tariff-man-trump%2F
And most Americans are finally beginning to understand that a tariff is nothing more than a fancy word for tax on consumers. Or theft since taxation is theft.
Not how tariffs work. For someone who considers themselves "a great business man" to not understand how tariffs work is pretty remarkable. The government money doesn't make money off of tariffs, they raise the prices on consumer goods. It's a tax on consumers.

— Brian 'BC' Castaldo (@BC_Castaldo) December 4, 2018
I am a Liberty Man. Trade is not raid. Voluntary exchanges make Americans wealthier. @POTUS's tariffs, which create barriers to exchange, are paid for by Americans. Taxing Americans to steer our decisions is social engineering that reduces our economic power and makes us poorer. https://t.co/j2rsiN4l8n

— Justin Amash (@justinamash) December 4, 2018
"President Xi and I want this deal to happen, and it probably will. But if not remember, I am a Tariff Man," he tweeted on Tuesday. "When people or countries come in to raid the great wealth of our Nation, I want them to pay for the privilege of doing so. It will always be the best way to max out our economic power."
When two parties voluntarily agree to trade with one another, it is not a "raid." A raid is when one party uses violent force to confiscate another person's property.

Americans pay the tariffs.

American money is going into the U.S. government's coffers. pic.twitter.com/iqH3DXKIIQ

— Ron Paul (@RonPaul) December 4, 2018
It all seems so obvious anymore. Americans are paying for the trade war, and it's already begun to hurt especially those who are living paycheck to paycheck thanks to already sky-high taxes in "the land of the [not] free."
Taxes do not create wealth, but destroy it.

With tariffs, the U.S. federal government is "raiding" the American standard of living.

— Ron Paul (@RonPaul) December 4, 2018
While the French riot over an increase in taxation that only profits the political elitists, Americans roll over and allow theft on an egregious scale by their own government. According to RT, in dealing with China so far, Trump has lived up to his self-ascribed reputation as a "tariff man." The Trump administration has thus far applied tariffs to $253 billion worth of Chinese goods and has threatened to apply 25 percent tariffs to another $267 billion worth of Chinese merchandise if this round of talks is unsuccessful. If talks fail, the tariff rate on $200 billion of the original $253 billion worth of goods will be hiked from 10 percent to 25 percent.
Trump was also certain to attempt to reassure US farmers who have been perhaps hurt the most during his trade war that the negotiations with China would benefit them.