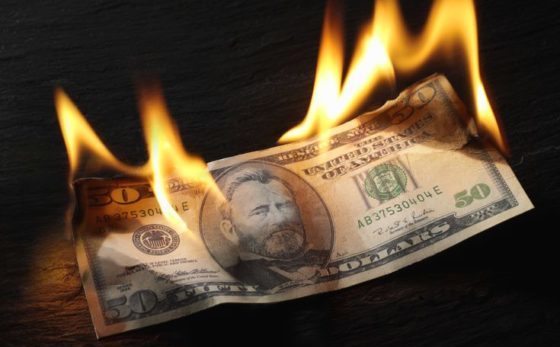 The dollar's collapse is nearing.  The European Union is planning to switch its payments to the Euro for its oil purchases from Iran, eliminating United States dollar transactions.
Just one more nail to the US dollar's coffin.  Its collapse is all but imminent at this point. The EU has successfully found a way to scoff at potential future sanctions on Iran by openly defying the US; and as an "added bonus," they've helped seal the dollar's fate.  According to RT, a diplomatic source with the EU has told a news outlet of the decision.  "I'm privy to the information that the EU is going to shift from dollar to euro to pay for crude from Iran," said the diplomatic source. 
Brussels has been at odds with Washington over the US's decision to withdrawal from the Iran nuclear deal, which was reached during the administration of Barack Obama. President Donald Trump has pledged to re-impose sanctions against the Islamic Republic as soon as he is able to do so. The Trump administration also has had plans to topple the current regime in Iran, according to leaked documents, and it looks like they've just given themselves the go-ahead:
The Washington Free Beacon has obtained a three-page white paper being circulated among National Security Council officials with drafted plans tospark regime change in Iran, following the US exit from the Obama-era nuclear deal and the re-imposition of tough sanctions aimed at toppling the Iranian regime.

The plan, authored by the Security Studies Group, or SSG, a national security think-tank that has close ties to senior White House national security officials, including – who else – National Security Adviser John Bolton, seeks to reshape longstanding American foreign policy toward Iran by emphasizing an explicit policy of regime change, something the Obama administration opposed when popular protests gripped Iran in 2009, writes the Free Beacon, which obtained a leaked copy of the circulating plans. –Zerohedge
However, it in the process, it is highly likely that the US dollar will collapse as nations distance themselves from the United States' often disastrous foreign policies.  As RT reported, dozens of contracts signed between European businesses and the Islamic Republic could be at risk of cancellation if Brussels obeys Washington's sanctions. This would damage Iran's economy and European firms would lose a huge market in the Middle East. Switching to alternative settlement currencies allows both sides to continue trading despite US sanctions and will damage the dollar in the process. 
Earlier this week, EU foreign policy chief Federica Mogherini said that the foreign ministers of the UK, France, Germany, and Iran had agreed to work out practical solutions in response to Washington's move in the next few weeks. The bloc is reportedly planning to maintain and deepen economic ties with Iran, including in the area of oil and gas supplies.