A document released by the U.S. Army details preparations for "full scale riots" within the United States during which troops may be forced to engage in a "lethal response" to deal with unruly crowds of demonstrators.
The appearance of the document amidst growing unrest in Ferguson, Missouri, with the National Guard now being called in to deal with the disorder, is an ominous coincidence.
The 132-page document, titled U.S. Army Techniques Publication 3-39.33: Civil Disturbances (PDF), was written in April 2014 and recently obtained by Public Intelligence.
The document makes it clear that the techniques detailed therein are to be applied both outside and inside the "continental United States (CONUS)" in the event of "unruly and violent crowds" where it is "necessary to quell riots and restore public order."
The training manual outlines scenarios under which, "Civil unrest may range from simple, nonviolent protests that address specific issues, to events that turn into full-scale riots."
The most shocking aspect of the document is the fact that it describes the deployment of a "lethal response" directed against "unarmed civilians," including "sniper response" and "small arms direct fire."
Under the heading "sniper response," the document states, "Ensure that target leaders or troublemakers are targeted," in addition to a passage which states, "Exploit the psychological effect of an attack."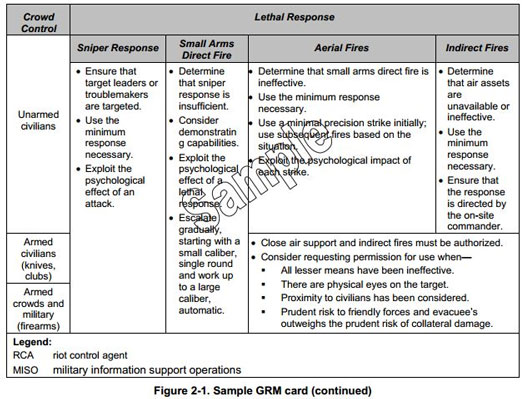 Under the heading "small arms direct fire," the manual states, "Escalate gradually, starting with a small caliber, single round and work up to a large caliber, automatic."
Another graphic which depicts "escalation of trauma" directs soldiers how to use "riot batons" in order to cause the necessary level of injury or death to the subject. "Deadly force final target areas" include the back of the neck, the solar plexus, the neck, the spine and the head.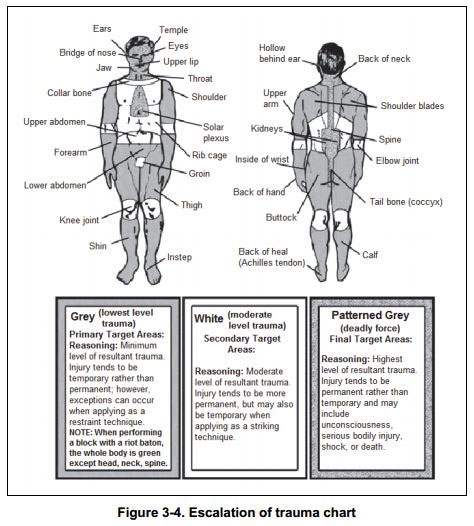 In light of events in Ferguson, where a predominantly black community has faced off with militarized police, it's interesting to note that the manual makes reference to civil unrest that can arise out of "ethnic hatred" and, "Community unrest (that) results in urban conflicts that arise from highly emotional social and economic issues." The document also mentions how rioters target "retail stores," as happened during the looting in Ferguson.
"Significant ethnic differences in a community can create an atmosphere of distrust, even hatred…… (and) can cause an eruption of civil disorder that can lead to full riots," states the document.
Although the document makes reference to the Constitutional rights of American citizens it goes on to stress that such protections are null and void under a state of emergency, asserting that Posse Comitatus, which is supposed to limit the power of the federal government to use military personnel domestically, "does not apply" under declared "emergency authority" or "When the need for the protection of federal property or federal functions exists."
It is important to stress that this training manual applies to U.S. Army operations in foreign countries as well as domestically on U.S. soil. Indeed, section 2-18 of the document goes into detail about domestic protests such as the 1999 anti-WTO demonstration in Seattle.
The emergence of the document as National Guard troops prepare to descend on Ferguson, Missouri to deal with looting and civil unrest follows a report we published just a few weeks before the outbreak of the Ferguson riots which documented how National Guard troops were training to detain unruly African-American citizens in prison camps before handing them over to police.
In a special video report, Alex Jones documented how the story was part of wider preparations by the government for domestic disorder that have been ongoing for years.
We have reported previously on similar documents that outline how the U.S. Army would be forced to resort to lethal measures in order to deal with unruly Americans during times of emergency within the United States.
In 2012 we covered FM 3-39.40 Internment and Resettlement Operations, a U.S. Army manual that describes how political activists in prison camps will be indoctrinated by specially assigned psychological operations officers. The document makes numerous references to how government agencies like the DHS, ICE and FEMA will be involved in the domestic internment of U.S. citizens during "civil support operations."
A second US Army Military Police manual that was leaked months later also outlined how military assets would be used domestically to quell riots, confiscate firearms and even kill Americans on U.S. soil during mass civil unrest.
U.S. troops and National Guard also worked with local police to incarcerate Americans in detention camps during drills Alex Jones covered in 1999 in Oakland, California.
A report produced in 2008 by the U.S. Army War College's Strategic Institute warned that the United States may experience massive civil unrest in the wake of a series of crises which it termed "strategic shock."
"Widespread civil violence inside the United States would force the defense establishment to reorient priorities in extremis to defend basic domestic order and human security," stated the report, authored by [Ret.] Lt. Col. Nathan Freir, adding that the military may be needed to quell "purposeful domestic resistance".
Rex 84, short for Readiness Exercise 1984, was established under the pretext of a "mass exodus" of illegal aliens crossing the Mexican/US border.
During the Iran-Contra hearings in 1987, however, it was revealed that the program was a secretive "scenario and drill" developed by the federal government to suspend the Constitution, declare martial law, assign military commanders to take over state and local governments, and detain large numbers of American citizens determined by the government to be "national security threats."
Facebook @ https://www.facebook.com/paul.j.watson.71
FOLLOW Paul Joseph Watson @ https://twitter.com/PrisonPlanet
*********************
Paul Joseph Watson is the editor at large of Infowars.com and Prison Planet.com.
It's government re-education time again, and in an effort to support the ongoing Infowar aimed at injecting liberty and truth into the mainstream education system, the Infowars Store is having a limited time 10% discount on all items by using promo code "10". Click here for more information.