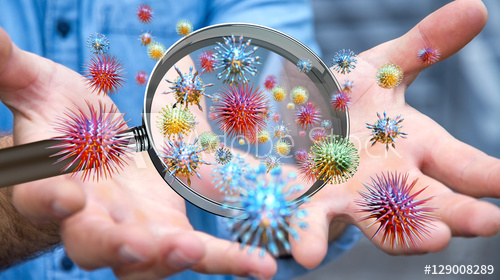 Dr. Jonathan Quick, chair of the Global Health Council, told Raconteur that people-to-people contact makes an outbreak more dangerous.  And right now, there's nothing more terrifying than a new virus, likely one that jumps from animals to humans unexpectedly that could wipe out millions across the globe.
Disease X doesn't exist yet, but scientists are pondering its implications.  "Our greatest fear is being blindsided by a new virus, most likely due to animal-human spillover, which then readily spreads from human to human, has at least a 5 to 10 percent fatality rate, does not respond to existing medicines, and for which an effective vaccine and accurate diagnostic test cannot rapidly be developed," said Dr. Quick, according to The Daily Star.
A new pandemic is right on the horizon. It's a matter of when, not if, according to Raconteur, and how the world will respond to a deadly virus. The death of 9,000 chickens on a single farm in northeast China didn't make global headlines; perhaps it should have. The poultry died from the lethal H7N9 virus. No humans suffered this time, yet this flu kills more than one in three people who catch it and 623 have already died of this virus in Asia. The next coughing bird could be incubating a lethal virus that humans could pass on too.
This is just theory and conjecture at this point, but humanity is woefully unprepared for a pandemic.  Most people are as ill-advised about infectious diseases as they are about the state of the global economy. "We just don't know where the next [pandemic] will strike. We cannot predict it. There is also the natural evolution of diseases already out there," explains Professor David Heymann of the London School of Hygiene and Tropical Medicine.
"A virulent respiratory virus spreading as fast as flu can reach all major global capitals within 60 days now. By June this year [2018] alone we saw concurrent outbreaks of six of the ten diseases in the WHO blueprint list of priority diseases," says Dr. Richard Hatchett, chief executive of the Coalition for Epidemic Preparedness Innovations, which aims to derail epidemics by speeding up the development of vaccines. But not one single vaccine is 100% effective nor are they 100% safe as every single human being is different.
The study "Pandemic Versus Epidemic Influenza Mortality: A Pattern Of Changing Age Distribution" noted the most pandemic deaths occurred in those under the age of 65. Tragically, it is believed the Spanish flu virus (one the most infamous pandemics) made the body's own immune system work against it when it triggered killer "cytokine storms" in its victims. That means, the stronger the immune system, it is thought, the more devastating the result.