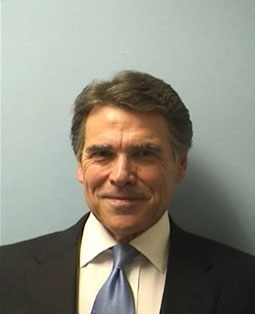 (Pictured: Governor Rick Perry's Official Mug Shot. August 20, 2008)
The right to bear arms shall not be infringed?
Recently indicted Texas Governor Rick Perry can no longer carry a concealed weapon.
A felony indictment for abuse of power will hit Texas Governor Rick Perry, an avowed gun enthusiast, where it hurts – by curtailing some of his rights to bear firearms.

…

Under state law, Perry, a staunch supporter of gun rights who said he shot a coyote to death with a pistol while jogging in Austin in 2010, is no longer allowed a license to carry a concealed handgun because of the indictment.
And per Federal Law, the Governor cannot receive or purchase a firearm while under indictment.
"It shall be unlawful for any person to sell or otherwise dispose of any firearm or ammunition to any person knowing or having reasonable cause to believe that such person (1) is under indictment for, or has been convicted in any court of a crime punishable by imprisonment for a term exceeding one year."
Perry is still able to own and carry a firearm on his own property (it is not clear if that includes the Governor's mansion in Austin). Should it become necessary for the Governor to use his weapon he'll need to take aim and shoot with care, because he can only use the ammunition he has in his possession due to federal statutes that prohibit him from acquiring more while he is under indictment.
Innocent until proven guilty? Or the other way around?
The Governor is facing up to 109 years in prison for two felony charges stemming from his refusal to fund a democrat controlled Public Integrity Unit headed by District Attorney Rosemary Lehmberg. After Lehmberg was arrested for a DUI, Perry refused to authorize funds for her unit until she resigned.