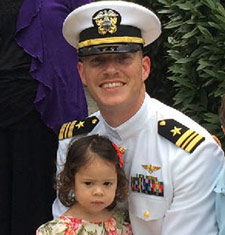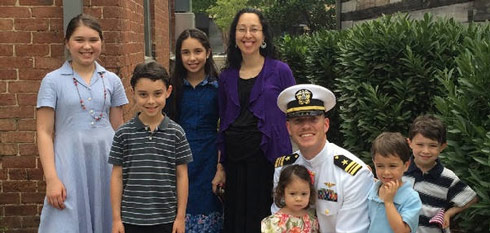 (Lt. Cmdr. Timothy West pictured with his family. He has a seventh child on the way)
The hypersensitive bureaucracy that is modern-day America shows its ugly face of tyranny once again.
In July Muhammad Youssef Abdulazeez opened fire at two military installations killing five service members before he was himself gunned down by responding officers.
Amid the chaos Lt. Cmdr. Timothy White, armed with a personal firearm, also discharged his weapon in an attempt to stop the mass shooting. It is not clear whether White struck Abdulazeez, but it can be argued that his actions certainly helped to deter further carnage because rather than walking through a military installation randomly killing unarmed victims, Abdulazeez was forced to engage armed defenders.
But none of that matters to Commander-In-Chief Barack Obama. According to a report from former Congressman Allen West, despite his heroic efforts that undoubtedly saved lives, Lt. Cmdr. Timothy White is to be formally charged for discharging his firearm on federal property:
Ladies and gents, resulting from the text message I received yesterday, I can confirm that the United States Navy is bringing charges against Lt. Cmdr Timothy White for illegally discharging a firearm on federal property.

The text message asked if it would be possible for Lt.Cmdr White to reach out to me. To wit I replied, affirmative.

What kind of freaking idiots are in charge of our Armed Forces — pardon me, our "unArmed Forces"? What would they prefer that Abdulazeez had been able to kill all the Marines and Sailors at the Naval Support Reserve Center?

Let me draw an interesting contrast: Secretary of the Navy Ray Mabus is more concerned about lifting the ban on transgendered Sailors. Mabus has a problem in that for the first time since 2007 the US Navy will not have a Carrier Battle Group operating in the Persian Gulf. But this knucklehead has no problem with the Navy seeking to destroy the career of a Sailor, a commander of an installation, returning fire against an Islamic jihadist attack. I do not care if it was his personal weapon, he deserves a medal for facing the enemy.

Folks, this has become the Obama military that will not implement policies for our men and women in uniform to be protected — but will punish them if they do protect themselves.
This is what it has come to.
We have a situation where an armed terrorist stormed a gun-free zone looking to kill as many victims as he could possibly find. He killed five and was stopped dead in his tracks, not by hugging it out or talking through his problems like anti-gun liberals would prefer, but by the barrel of a gun.
Apparently that was not enough. The government's case makes it clear that the policies of this administration and subsequently our military under its direct command, is that Americans are not to fight back when faced with being murdered.
They are to kneel, put their hands up, and be executed like sheep. 
Our Commander-In-Chief should have immediately moved to hail this man a hero, along with the other officers who put an end to Abdulazeez's crazed terror campaign.
He did no such thing, because doing so would have highlighted the necessity of personal firearms in today's dangerous world.
Rather, our President – and this decision is his and his alone – is now prosecuting a man for doing exactly what he was trained to do.
Also Read:
The Ugly Face of Tyranny: Feinstein Comes For Your Right To Speak Freely Online
"I Am Tired of Tolerance for Oppression": Why Tyranny Pisses Me Off
Leaked Documents: Homeland Security Exercise Targets "Free Americans Against Socialist Tyranny"
Are We Being Forced Into a "Second American Civil War"… If So, Who Will Win?