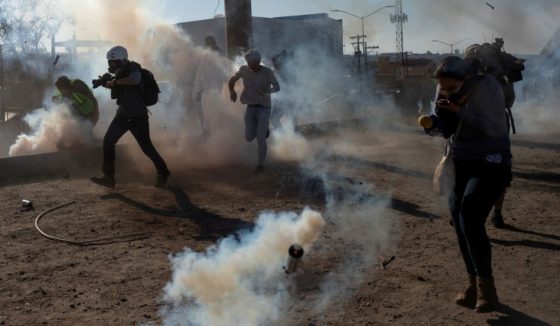 The Department of Homeland Security is defending the government's use of tear gas on the migrant caravan at the southern border of the United States. Kirstjen Nielsen, the DHS secretary, also claimed that the migrants used women and children as "human shields" during the gas attack.
Nielsen also appeared to take criticisms of the tear gas attack in stride by sharing photos taken Sunday from the border of what looks like women and children who were being used as "human shields" against the gas.
"It appears in some cases that the limited number of women and children in the caravan are being used by the organizers as 'human shields' when they confront law enforcement," she said in a statement according to the Washington Post.  "They are being put at risk by the caravan organizers as we saw at the Mexico-Guatemala border. This is putting vulnerable people in harm's way."
https://www.facebook.com/179587888720522/posts/2230592780286679/
Nielsen appears to agree with president Donald Trump on the intentions of the migrant caravan. "They feel they have an advantage when they're with a young child, and they call them grabbers," the president told reporters. "That's a term I've heard, but that's what they call them, grabbers. They grab a child because when they have a child they feel a lot safer."
Nielsen also suggested that the gas attack was in self-defense, according to the Washington Post. She stated that border agents had to use tear gas after migrants began throwing "rocks and projectiles" at them. Authorities, she said, were entitled to "self-defense" and had "responded admirably and responsibly to the events on Sunday." She said it was a "testament to their training and professionalism that no one was injured."
International treaties have banned the use of tear gas and other chemical weapons in warfare. But domestic use is not prohibited, and the substance, formally known as a lachrymator agent, is sometimes used in drills and for riot control. During Barack Obama's second term as president, border agents used pepper spray against migrants who were throwing rocks and bottles at them, the San Diego Union-Tribune reported at the time. Both incidents unfolded at the San Ysidro border crossing.