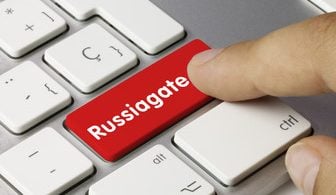 Senator Chuck Schumer (D-New York) still can't let the election meddling hoax go, as he uses it again to blast a Facebook app he said has "Russian tentacles." Political and media hysteria over the FaceApp is back after Schumer made public a letter from the FBI calling any Russian-developed software a "counterintelligence threat" to the United States.
So if you participated in the "age challenge," you apparently aided Russian election meddling. The letter Schumer has shared was from Assistant Director Jill Tyson, in response to his July request to look into the potential dangers of FaceApp, a program rolled out in 2017 that went viral earlier this year as a part of the aforementioned challenge, according to a report by RT. 
A warning to share with your family & friends:

This year when millions were downloading #FaceApp, I asked the FBI if the app was safe.

Well, the FBI just responded.

And they told me any app or product developed in Russia like FaceApp is a potential counterintelligence threat. pic.twitter.com/ioMzpp2Xi5

— Chuck Schumer (@SenSchumer) December 2, 2019
The letter was dated November 25 – the day before the Thanksgiving holiday in the US – and contained no specific information about FaceApp. Instead, Tyson wrote that the FBI "considers any mobile application or similar product developed in Russia, such as FaceApp, to be a potential counterintelligence threat," based on their data collection, privacy policies, and the ability of the Russian government to access data within the country's borders.

Before anyone could point out that it took the FBI four months to produce what is essentially a canned non-response, or that such specious reasoning could mean the rest of the world could declare all programs designed by US-based companies as "CIA tools" or worse, Schumer went to the media beating the busted drum of "election meddling," obviously.

"The FBI has to see what Russia might be doing with this information," Schumer told the New York Daily News.  "We should be worried about Russia's tentacles getting deeper into American elections." –RT
More democrats crying and upset over an app. The paranoia has caused widespread censorship and made more people fearful. And Democrats don't help. Even after the two-year Mueller investigation produced zero evidence of "collusion" between President Donald Trump and Russia during the 2016 election, Democrats and the media have continued arguing that the Russian "meddling" was an established fact, rather than an accusation cooked up by Hillary Clinton's campaign and the US intelligence community to explain Trump's shocking victory.
"Clinton Body Count" Is Trending On Twitter, The Establishment Blames Russia
It's still unclear how a Face app could interfere with the election.  If anything, the data and photos could be harvested and create a privacy concern.  But was is clear, is that democrats love to beat a dead horse.