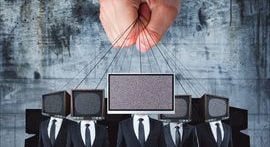 The Centers for Disease Control and Prevention reported Tuesday that 98% of all COVID cases are the delta variant. The report, which allegedly compiles data up to August 14, was released as the United States hit 37 million cases since the start of the pandemic, according to Johns Hopkins University data.
There is not a specific test for the delta variant, according to the Tennessean. Because COVID-19 (or more specifically, SARS-CoV-2) doesn't exist, the delta variant doesn't either. But that's not stopping the mainstream media from trying to scare people into taking an experimental gene therapy shot, three of them. So where are they getting the data? This is astonishing that they can pull this off:
Since the vast majority of COVID-19 cases in the U.S. are the delta variant, it's likely a positive test result indicates you could be infected with the delta variant, according to Human and Health Services of Texas. If they aren't testing for the delta variant, why are we just assuming it exists? They are proving they are making this data up as they go to panic the masses and all it takes is a minimal level of critical thinking to see through this facade.  What's a positive test? A positive test is synonymous with the common cold, according to a Centers for Disease Control and Prevention report. So what does that mean? Is anyone connecting any of the dots yet?
So why are we still being lied to when all of the data and evidence points to this virus not even existing? Buried in articles, lies the answer. They need everyone to take this shot and get a booster.
Biden administration health officials are expected to recommend COVID-19 booster shots as soon as this week for all Americans who received the Pfizer or Moderna vaccines, regardless of age, eight months after they received the second shot, a source familiar with the plans confirmed to USA TODAY. 

Every state has 50% or more of those eligible for the vaccine, ages 12 and up, with at least one dose, with some states exceeding 80%, said White House COVID-19 Data Director Cyrus Shahpar.

But the US needs "high vaccination coverage everywhere to be fully protected," he said on Twitter. –USA TODAY
The lies are never-ending, but the good news is that it's helping boost people's cognitive awareness, break the cognitive dissonance, and enhance our critical thinking skills. The bad news is that sociopaths don't relinquish power willingly and their plans could get more sinister and more become aware of what's been done to them.
Stay prepared and aware. This is far from over.