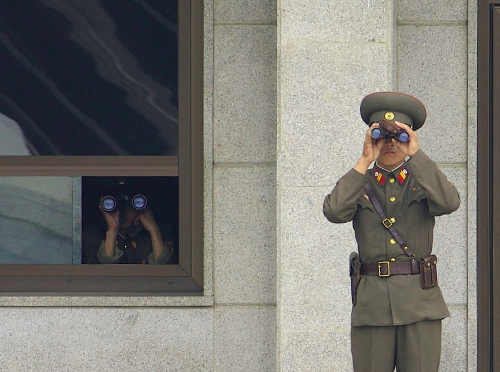 When it comes to North Korea, there are no easy solutions. Historically, every attempt at diplomacy has failed in the long run. Every attempt to get China to reign in their buffer state has also failed. And as time goes on, the military option seems less feasible.
Several days before he left the White House, Steve Bannon did a pretty good job of explaining why going to war with North Korea would be such a bad idea. "Until somebody solves the part of the equation that shows me that 10 million people in Seoul don't die in the first 30 minutes from conventional weapons, I don't know what you're talking about, there's no military solution here, they got us."
At the end of the day there may be only one thing we can do, and that is nothing. We can simply keep a lid on the country until it collapses, or until the population decides that they've had enough, and tries to change or reform the regime.
The latter of those possibilities may be more plausible than you think. While most people in America assume that North Koreans are hopelessly brainwashed into submission, that's not true at all. As it turns out, there's a sign that the starving and brutalized masses of North Korea are growing increasingly restless and disillusioned with their government. They're turning to religion in growing numbers, and in defiance of their brutal regime. For instance, according to a U.S. State Department report, the number of Christians in North Korea has increased five-fold over the past five years, to somewhere between 200,000 and 400,000 people.
The State Department, which gleaned the Christian population figures from data maintained by the United Nations and the Cornerstone Ministries International (CMI), acknowledged the number of Christians in North Korea may be higher.

State learned from CMI that an estimated "10-45 percent" of people imprisoned in North Koreans detention camps are Christians.

"An estimated 80,000 to 120,000 political prisoners, some imprisoned for religious reasons, were believed to be held in the political prison camp system in remote areas under horrific conditions," points out State in its report. "CSW [Christian Solidarity Worldwide] said a policy of guilt by association was often applied in cases of detentions of Christians, meaning that the relatives of Christians were also detained regardless of their beliefs."

An unnamed North Korean defector confirmed the significant increase in North Korea's Christian population.
And it's not just Christianity that is on the rise. Traditional shamanism and Buddhism is also making a comeback. The reason why this is a bad sign for the ruling elites in North Korea, is that this government relies on cult-of-personality worship of the Kim family to keep the population in line. What does it say if the population is abandoning that state sanctioned religion on pain of death and torture?
"In the past, the people were told to worship the Kim family as their god, but many North Koreans no longer respect Kim Jong-Un", the defector, now a member of the Seoul-based Worldwide Coalition to Stop Genocide in North Korea, told the Telegraph. "That means they are looking for something else to sustain their faith."

"In some places, that has led to the emergence of shamans, but the Christian church is also growing and deepening its roots there", he also said, adding, "Even though people know they could be sent to prison—or worse—they are still choosing to worship, and that means that more cracks are appearing in the regime and the system."
One thing most people forget about terrible governments, is that they are kept in place by the same thing that every government relies on. It doesn't matter if you're talking about a democracy or an iron fisted dictatorship, they all rely on the consent of the governed.
In the former case, the people decide who rules them every few years. In the latter case, the people have either a literal or proverbial gun pointed at them at all times, but the government still needs either their consent or their submission. The moment the population decides that they'd rather risk death than worship the state, then that state is not long for this world.