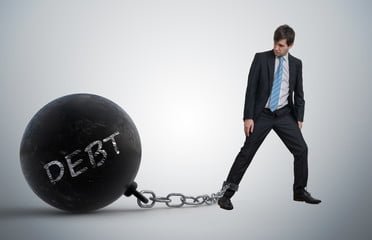 As the economy frays, companies close retail stores, and other layoff workers, Americans are going further into debt.  In fact, the United States household debt has now reached all-time record highs.
According to the Federal Reserve's Quarterly Report on Household Debt and Credit, household debt increased for the 19th consecutive quarter to $13.67 trillion. This increase in debt was "boosted by increases in mortgage, auto, and student loan balances," the report explained.
U.S. household debt has hit yet another all-time high, with about $97 trillion in housing debt and about $4 trillion in non-housing debt.
This news comes as the auto industry is showing major signs of economic distress. Auto loan delinquencies, which millennials, in particular, have been struggling with, also rose slightly. Ford has announced layoffs and unsold cars are sitting in the parking lots of what used to be vibrant and bustling retail establishments. But don't worry, because the media still says that the economy is doing just fine.
Increases in delinquencies very often foreshadow an economic recession.  It's a big deal when people can no longer pay their bills.  According to Yahoo, Fitch Ratings Senior Director, Non-Bank Financial Institutions Michael Taiano told Yahoo Finance that these delinquencies might not be signaling a recession. "What we are seeing reflects the seasoning of a resumption of consumer debt growth over the past few years after a period of stagnation following the financial crisis." Taiano added: "we anticipated some worsening in credit performance this year relative to last year when there were a number of macroeconomic tailwinds including the tax cuts. So it's not that surprising to see some credit deterioration this year."
Credit cards saw the most concerning rise.  As unsecured debt, credit cards can present problems for so many users who cannot control their spending. They are the "most popular and common form of credit used by consumers," according to the NY Fed, and saw a worrying increase in the number of serious delinquencies.
The 18 to 29 demographic in particular (Gen Z and late millennials) have been finding it more difficult to repay their credit card debt.  "Credit card delinquency rates have been trending upward in the past few years — likely reflecting, in part, the increased presence of younger borrowers in the credit card market," the report explained.
 That demographic is also burdened with massive amounts of student loan debt, most of which is paid back to the government. The government will get their money (the taxpayers' money) back with interest.
We will continue to encourage readers to save some extra money in an emergency fund and pay down the debts you already have while not taking on additional debt at this time.  Prepare for the worst, and hope for the best.