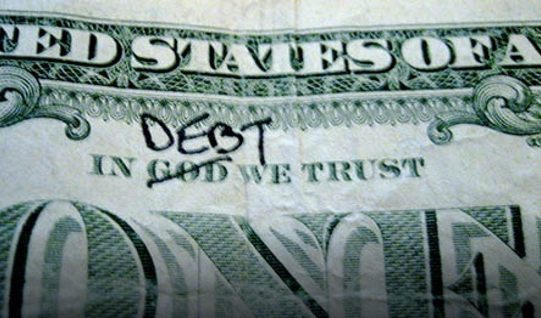 The average American consumer is "tapped out" when it comes to their debt load. As a matter of fact, just about everyone in the world is in the most amount of debt they have ever been in, in history.
As delinquencies and layoffs rise, Americans are increasingly finding themselves in a precarious situation. Already paying a lot in debt repayments, Americans who face a financial burden are already so far in debt they can no longer borrow their way out.  Everything is fine as long as they can make the payments.
According to Bankrate, the number one reason (40 percent) why Americans aren't saving their money is that they have too many other expenses. Interestingly, only 13 percent of those surveyed by Bankrate cited debt as the reason why they're not saving as much as they should. According to Forbes, that little tidbit is "interesting" because total U.S. consumer debt, including revolving and non-revolving debt, now stands at more than $4 trillion, the most ever. Have Americans become so delusional that they've stopped thinking of debt as an expense and a chunk of money they have to repay?
Debt is beginning to impact every aspect of American life and culture. It affects us all, but it can seriously hinder workers' ability to retire on time. The more you're on the hook to pay lenders, the less you have to pay yourself. Revolving debt, such as credit card debt, is now valued at more than $1 trillion, which exceeds the all-time high right before the financial crisis.  Student loan debt is also a concern, as it stands at $1.5 trillion.
https://www.shtfplan.com/headline-news/americas-debt-crisis-consumer-credit-card-debt-continues-to-rise_04092019
Regardless of the red flags in the market and economy as a whole, Americans seem all to happy to keep borrowing more money.  Overall consumer debt reached $13.3 trillion in the fourth quarter of 2018 according to Experian, as reported by the Motley Fool.
It has become far to easy to borrow money and there is a good chunk of Americans that will never be able to pay back what they've promised. Debt often destroys your ability to keep your word.  Most Americans overspend and lack the very basic self-control needed to have a massive amount of credit available to them.  This is more than obvious when looking at the spending behaviors of those in our own neighborhoods.
The harsh lessons of the Great Recession a decade ago have already been forgotten.