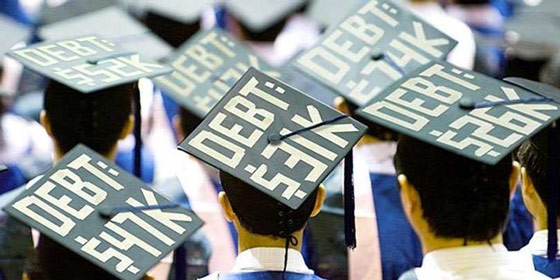 Americans who took out loans to pay for a college education are defaulting on those debts at record levels.  The country has never been as indebted with student loans as it is now, and the problem continues to spiral out of control.
In just the third and fourth quarters of last year, there were around $166.4 billion in student loan delinquencies that have been in default for 90 days or more, according to the Federal Reserve, the United States' central bank.  Steve Beaman, a financial analyst for the Florida Radio Network, the chairman of the McGraw Council, and the author of The Path to Prosperity said this is horrible news for the economy.  "The alarms bells are going off," Beaman said.  "If we don't do something about it quickly, it could possibly have a negative effect on the U.S. economy, hurt people's economic life and have an adverse reaction to their credit score," Beaman said.
https://www.shtfplan.com/headline-news/economic-woes-student-loan-debt-crisis-is-about-to-get-worse_10172018
Jack Hough, a senior editor for Barron's, also insisted this is a problem. "Let's artificially puff up buying power with cheap (college) loans and it makes it even less affordable," Hough said. Free college isn't much of a solution either.  The problem with the cost of a college education is that money is easily available to be borrowed (or in the case of government-funded "free" college, stolen) in order to be paid.  When money is readily available, of course, colleges will raise their prices.  There's no need to compete anymore.
According to Florida Daily, these defaults are incredibly concerned because of the amount of student debt Americans have racked up. About 40 million Americans have a collective $1.5 trillion in student loan debt. Some lawmakers have proposed ideas to get their money back. U.S. Senator Lamar Alexander, R-Tenn., who served as president of the University of Tennessee and as U.S. Education secretary under President George H.W. Bush,  has proposed an idea to make sure students repay the money they borrowed.  Alexander wants student loan payments to be garnished directly out of paychecks, insisting this will help the government get its money back.