This article was contributed by Lior Gantz of the Wealth Research Group.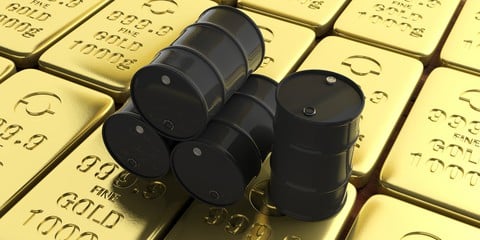 The WTI oil benchmark, which is the price gauge that matters in America, CRASHED yesterday to MINUS $40/barrel, right before the futures expiration time. Today, the price is right above ZERO and the problem is STORAGE SPACE.
You can't make this stuff up; CLOSING DOWN an economy has proven itself to be FAR MORE disastrous than previously thought.
Don't even look at the market in order TO UNDERSTAND what's going on; there's a major DISCREPANCY between the situation on the ground and the valuations of Corporate America businesses.
Check out the price of WTI going BELOW -$37:
Howard Marks, the billionaire hedge fund manager behind Oaktree Capital and a person I greatly appreciate in terms of market hunches, SPECIFICALLY in times of distress, has said that the purpose of investing is to make a FEW GOOD TRADES, not one PERFECT trade.
Oil prices, measured by WTI (West Texas Intermediate) are reflecting a TRULY existential crisis.
It was the BIGGEST-EVER daily crash at over 300%.
This means that either a wave of defaults is coming or the banks will have to restructure thousands of loans, or it means the GOVERNMENT will have to come together to STOP THIS.
Either way, we are VERY CLOSE to a bottom, but since we can only know when it hits AFTER THE FACT, I'm making moves right now.
Millions of AMERICANS have lost the single source of income they rely on to make ends meet.
This is turning into a GIANT WEALTH TRANSFER, and the amount of EXPLAINING that governments will have to do in order to make this right is ENORMOUS.
In times like these, you must FORTIFY your psyche with the right thoughts.
I'm starting my day by writing everything that has made me stronger throughout my life, PROVING TO MYSELF that I know how to stand up to tyranny, crises, and situations that are out of my control.
My daily routine always begins with going over my PRIMARY LIFE PRINCIPLES.
Gratitude is the ONLY correct mental attitude that can put everything else in perspective.
Everything in life is a lesson, not a test. Right now, there's suffering the world over and you can see that GREAT LEADERSHIP is a scarce commodity.
You need to focus on WRITING DOWN your current challenges and think them through. Crises birth ideas, insights, and new beliefs.
While we lie down on feathered cushions, we learn nothing. It's only when we're slapped that our mind kicks into OVERDRIVE.
I'm not wasting any energy on non-essentials. The COVID-19 pandemic has RAMIFICATIONS for all of us and we ought to be asking the following:
Is there anything I should be concerned with physically? Am I in a high-risk group? Am I sleeping, eating, drinking, and exercising properly?
How is my mental attitude? Do I have immediate goals that I'm presently pursuing? Am I evolving in compassion, patience, tolerance, and generosity when the globe is going through a TERRIBLE RESET?
What's my financial position? What expenses can be trimmed down? How can I generate more income? Can I do FAR MORE than I'm doing? Go radical with a life and death mentality.
None of us have EVER BEEN THROUGH a scenario where making money is nearly illegal. This is going to end up being DISRUPTIVE in ways we can't even imagine, but if you keep COMPOSED, you can come out energized, strong, and READY on the other side.