This report was originally published by Paul Joseph Watson at Infowars.com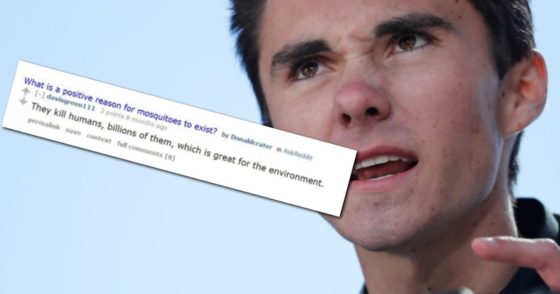 In a 2017 Reddit post, 'March For Our Lives' gun control activist David Hogg celebrates the fact that mosquitoes kill "billions" of people as being "great for the environment".
Another user on the site asked the question, "What is a positive reason for mosquitoes to exist?" to which Hogg responded, "They kill humans, billions of them, which is great for the environment." The post was made eight months ago.
Although the entry was posted under the pseudonym 'davisgreen111', the account almost certainly belongs to Hogg. The poster refers to himself as "David Hogg" in one post and another post links to a video from Hogg's personal YouTube channel. Another post confirms that he lives in Parkland, Florida.
Another post also links to a story about Hogg's father, former FBI agent Kevin Hogg. In another post, 'davisgreen111' makes reference to his dad being an FBI agent.
According to the World Health Organization, mosquito bites result in the deaths of more than one million people every year. There are 300-500 million cases of malaria every year and a child dies from malaria every 30 seconds.
The Reddit post conflicts with Hogg's public image as somebody who cares about saving lives. Some would also construe the remark as racist given that mosquito-related deaths disproportionately affect non-white people living in poor third world countries.
#Malaria is a life-threatening disease caused by parasites that are transmitted to people through the bites of infected mosquitoes https://t.co/x6I15Ye9rE pic.twitter.com/Mq8Dv3MUXy

— WHO (@WHO) November 29, 2017
In other posts, Hogg repeatedly discusses his inability to get a girlfriend and in one instance refers to girls as bitches.
Infowars reached out to Hogg for a comment but has yet to receive a response.
Fox News host Laura Ingraham lost numerous sponsors and could potentially be forced to resign over a tweet in which she said Hogg was being whiny over getting rejected by colleges.
Will David Hogg face any consequences for celebrating the deaths of over a million people a year or will the mainstream media completely ignore this story?
SUBSCRIBE on YouTube:
Follow on Twitter: Follow @PrisonPlanet
Facebook: https://www.facebook.com/paul.j.watson.71
*********************
Paul Joseph Watson is the editor at large of Infowars.com and Prison Planet.com.