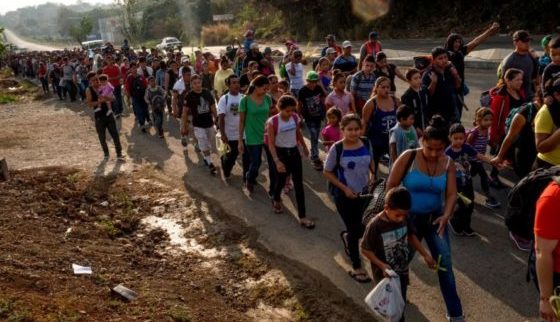 One of the biggest bits of news on all mainstream media channels is the caravan of illegal immigrants heading toward the United States border with Mexico intending to demand entry into the country. But from this big story comes a heavy dose of irony as Mexico deports 400 marchers for entering Mexico illegally.
According to The Daily Wire, when the caravan crossed the Mexican-Guatemalan border, the group's leaders praised Mexican officials for stepping aside and allowing them entry. "Refugee Caravan knocking down borders yesterday in Huehuetan! Immigration agents abandoned the post when they knew we were coming. The people celebrated this first little victory!" they said on Facebook.
https://www.facebook.com/TheNewRevolutionII/videos/vb.939298112826901/1657785744311464/?type=3&theater
Before setting out on the journey, the migrants were organized into groups of 10 to 15 people, and a leader was designated for each group. Five groups were then banded together in what organizers call a sector. While there are organizers from Pueblos Sin Fronteras leading the way, much of the effort to get to the US border is in the hands of the migrants themselves. –BuzzFeed
But according to CNN, in its statement, the Mexican Foreign Ministry said the caravan is mainly made up of people from Guatemala, Honduras, and El Salvador and that around 400 caravan participants who did not enter the country of Mexico lawfully had been repatriated to their countries of origin "with the strict legal framework."
"Under no circumstance does the government of Mexico promote illegal migration," it said.  The ministry said the circumstances of the caravan differed from those of previous years in that "the Mexican immigration authorities have proceeded to offer refuge in some cases, as well as other necessary protective measures."
The caravan set off on March 25 for a 1,900-mile trek and is expected to hit the U.S.-Mexico border by the end of the week. President Donald Trump hasn't seemed to be impressed with Mexico's attempts to stop the caravan either, but it looks like the laws in our Southern neighbor's nation have worked in this instance.
https://twitter.com/realDonaldTrump/status/981121409807155200
Mexico "does not make immigration decisions for the United States or any other nation," the statement went on to say, adding that the respective authorities "will decide whether to authorize or not the entry of those who are part of the caravan."
The Mexican President, Enrique Peña Nieto, did speak regarding NAFTA. He said that he continues to look for a resolution that will, "benefit the development of the three countries (Mexico, the US, and Canada) that are negotiating with NAFTA."