This article was contributed by The Wealth Research Group.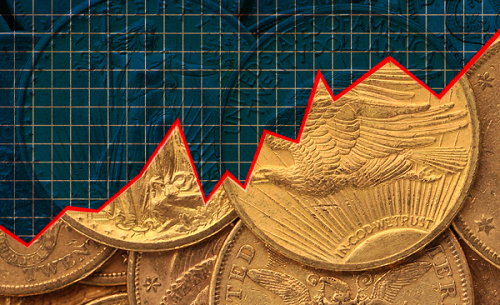 Today's letter is divided into two sections: the first is the update on the bloody mess that precious metals are undergoing and the second is a summary of the hearing that Rudy Giuliani and the list of witnesses reported that gave verbal accounts of their testimony about Pennsylvania's voter irregularities.
GOLD: IS THE BULL MARKET DEAD?
In short, the answer is NO. There are several instances since December 2015 where we've seen similar moments to this. These are instances in which the volatility index plummets, many events conspire to bring hope, and there's the assumption that central banks might tighten and that there's no catalyst for precious metals. These instances come and go since you can't get rid of the underlying issue: more currency is created by the second.
As you can see, gold fights these moments off and rallies:
If this one follows in the footsteps of the ones we saw in June 2019 and March 2020, watch out, bears!
As you can see, in August, the price of gold distanced from its 200-DMA so much that this sell-off was due to arrive. Taking profits in August was very smart.
Right now, our thesis is that the best course of action is a slow accumulation. The value proposition is certainly the best it's been since March, and in terms of the mining industry itself, the validity of the sector is well intact. The trend is clear — gold is heading down.
The median all-in sustaining cost is still $975/ounce, so mining companies are still able to report strong earnings, which is the key to understanding the reason we're about to pull the trigger on the most compelling buy-the-dip setups, in our opinion.
This is gold's worst month in four years!
Like we wrote two weeks ago, when gold's price was much higher, we could see gold falling all the way to $1,750. These shakeouts are the best buying opportunities in hindsight. Traders surrender and it feels bad; there's a sense of desperation about the future's price action. We think we're going to see that frustration fairly soon.
TRUMP'S LAWSUITS – PENNSYLVANIA
Pennsylvania had multiple alleged "irregularities" in the state's vote count:
* At least 21,000 dead people on Pennsylvania's voter rolls
* Duplicate ballots were mailed out to thousands of registered voters (Pittsburgh officials have admitted that this happened)
* A lawsuit filed against the state of Pennsylvania for having more than 800,000 inactive voters on its voter rolls
* Pennsylvania's attorney general told Ted Cruz to "stay the hell out of" the state's disputed tabulation of presidential election votes
* Dominion Voting Systems' corrupt election software system was reportedly used in Pennsylvania
Along with that, Giuliani cited another set of numbers that don't add up. Pennsylvania received approximately 1.4 million absentee or mail-in ballots. However, in the count for president, they counted 2,589,242 absentee or mail-in ballots. How will they account for the discrepancy?
"I know crooks really well. You give them an inch, and they take a mile. And you give them a smile, and they take your whole country." These were Giuliani's ending remarks for his opening speech.
Could all of these witnesses possibly be lying in a public hearing, making up the very specific details of what they saw and heard? The mountain of firsthand evidence can only lead informed citizens to one conclusion.
Here's what President Trump is saying about all of this:
"The whole world is watching us. The whole world is watching the United States of America, and we can't let them get away with it… This election was rigged, and we can't let that happen. We can't let it happen for our country." – Donald J. Trump.
The zero hour cometh; we shall see if these hold up in the Supreme Court or if Biden will be inaugurated on January 21st, 2021.