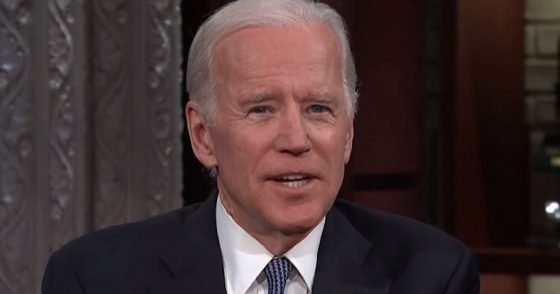 Democrats wild promises are getting a bit out of hand. Creepy Uncle Joe wants your vote and if you elect him as the next president, he promises to "cure cancer!"
So the newest promise from the infamous democrat "Gropey Joe" is that he can cure cancer if only you vote for him and give him the power and authority to rule over your life.
https://www.shtfplan.com/headline-news/creepy-joe-biden-tells-10-year-old-girl-ill-bet-youre-as-bright-as-you-are-good-looking_05292019
According to Fox News, at a campaign event in Ottumwa, Iowa, Joe Biden expressed the difficulty one faces with a "loss" of a family member and offered an attempt to comfort them saying, "'I know how you feel'" when in reality they have "no idea how I feel," which is likely in reference to the loss of his son Beau Biden, who died in 2015 from brain cancer. "That's why I've worked so hard in my career to make sure that… I promise you if I'm elected president, you're going to see the single most important thing that changes America, we're gonna cure cancer," Biden declared.
Although plays on emotions work very well in the United States' political landscape which is all but devoid of morality and logic, this one doesn't seem to be taking Biden that far. Biden has been far too creepy for far too long to be able to pander to emotions, although his statement was welcomed with applause.
Here's the video of @JoeBiden promising to cure cancer if elected president.https://t.co/3doUlVOgcg pic.twitter.com/cRzsamV1Fc

— Julio Rosas (@Julio_Rosas11) June 11, 2019
Don't get us wrong, fighting cancer is a good cause, but vowing a cure if you vote for Creepy Uncle Joe is a wild promise even for a Democrat. In 2016, Biden headed the "Cancer Moonshot" program during the Obama administration in a renewed effort to find a cure for cancer. He also launched the Biden Cancer Initiative after leaving the office.
The Democratic frontrunner also took the time to take some shots at President Donald Trump (what a surprise) while campaigning in Iowa, calling him an "existential threat" to the country. In the meantime, we'll leave you with this:
https://www.shtfplan.com/headline-news/irrefutable-evidence-10-videos-that-show-creepy-joe-biden-touching-women-inappropriately_04012019