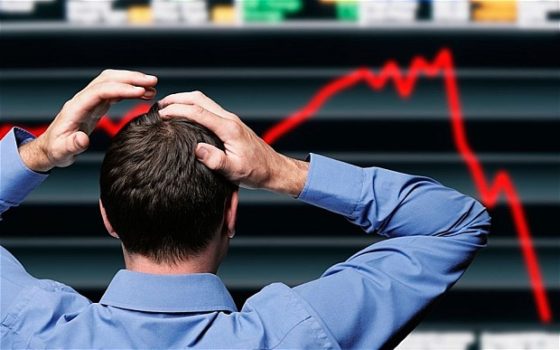 Businesses in the United States are having a harder time in the real world than the stock market indicates, says CNBC's market expert Jim Cramer. "The real world is much worse than the stock market indicates," Cramer said on Squawk Box. 
Cramer stated that out of the "dozens of company executives he's spoken with", not one of them has indicated they're expecting a stronger quarter since trade tensions between the United States and China have escalated. "I literally do not have a company that is having a better quarter," Cramer said.
While it's understood that president Donald Trump's plans are to make trade more "fair" between the U.S. and China, the negative effects, or the "unintended consequences" of the tariffs have become a burden on businesses and consumers. Tariffs are rising the prices of goods and services and while the stock market continues to inch upwards. This means more and more average Americans are being left in the dust. Sticking one's head in the sand doesn't change reality.
Economic experts tend to look at all of the information across several industries to get a complete grasp on the economy. But once that is done, reality sets in. Companies across the retail, lending, materials, and housing markets have noted increasing pressure from Washington and Beijing, both of which are placing billions of dollars worth of punitive tariffs on each others' imports. Tariffs that are being wholly paid for by the public.
https://www.shtfplan.com/headline-news/goldman-sachs-tariffs-costs-fall-entirely-on-u-s-households-businesses_05132019
When looking at the gains in the stock market, Cramer said he thinks it's just "wrong" to assume the overall economy is centered around the stock market. "I would rather say the stock market is wrong than I would say the real economy is wrong," Cramer said.
Heading into next week, investors will be closely watching the meeting of President Donald Trump and Chinese President Xi Jinping at the G-20 summit in Japan, according to CNBC.  The two trade war obsessed leaders are expected to reengage on trade talks under the threat of even more levies. That means those already living on the financial edge could eventually be pushed to the brink and fall off.  If that happens to enough people, there will be a recession and many financial gurus expect the next deep recession to be the last one.
James Davis, a financial expert at Future Money Trends says there are ways to protect yourself from the inevitable. Buy gold, but we all know to do that. Diversification is the key, according to Davis.  Make sure you've got an array of assets that hold value, and make sure some of those are liquid. They don't make you much money in good times but will be invaluable when things take a hard turn for the catastrophic and the markets begin their downward tumble.