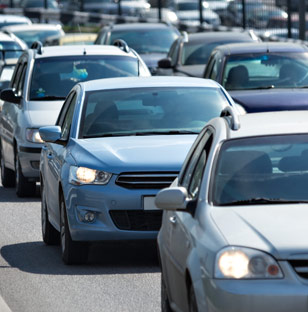 Disaster could come anytime, anywhere. It could be a widespread, system-wide event, or it could be a personal crisis.
Hopefully you have your home and family as prepared as you can be for any and all such SHTF situations.
But what about your vehicle?
Countless hours and miles are covered in our cars and trucks, and the road can lead us anywhere.
What happens in the event of a natural disaster that could sweep your vehicle into flooded waters, or turn your vehicle over in a ditch or a road side?
Obviously the potential for serious injury or death is all too real. The open road is one of the single most dangerous factors in the American lifestyle, and car accidents are one of the leading causes of premature death.
Worst of all, auto accidents and severe road hazards are completely unpredictable in most situations.
Son of Liberty shares some very prudent and important preps that he has installed in his truck to deal with the many possibilities that could arise while on the road and in the vehicle:
Of course, a [amazon text=emergency medical kit&asin=B003H2EODW], a tourniquet and a bug out bag are all essentials to keep in your car, and take with you everywhere you go. These devices can and will save lives when first responders are still on their way, or even unavailable.
But here are a few additional installations that can be added to your vehicle to protect you and your loved ones:
– [amazon text=Auto Escape Strap Cutter and Glass Breaker Tool&asin=B015JTXME2]: Simple and inexpensive devices like [amazon text=Auto Escape Strap Cutter and Glass Breaker Tool&asin=B015JTXME2][amazon text=this one&asin=B015JTXME2] made by Gerber Gear could save your life. This man installed one on each side of the vehicle so that any passenger could easily reach and uses it to cut their seat belt strap and break out a window to escape, even if the worst should happen to the driver or alpha member of the group.
Here's a demonstration of how it would work:
– [amazon text=Tactical Visor&asin=B014P63TR0]: This inexpensive organizer goes over your existing sun visor and allows you to keep much more than just sunglasses. This simple solution can hold scissors, medical supplies, communications devices and other tools you may need in an emergency.
– [amazon text=Raptor Emergency Medical Tool&asin=B00BHZJA58]: These scissors and multi-tools are designed to fold up for tight storage and protect sharp edges in case it flies loose in a moving vehicle or other situation. Its applications are numerous, but obviously it could help to administer first aid, or free you from being trapped in a wrecked vehicle.
– [amazon text=Mobile HAM Radio&asin=B004WKH00M]: This device can be mounted in your vehicle and independently powered for emergency communications with police and emergency workers, or other individuals in situations where your cell phone has no service, or is dead, lost or forgotten. It can and will save your life and keep you from being stranded in an already-bad situation.
-[amazon text=Locking Gas Cap&asin=B000IYT158]: In the event of a SHTF collapse, zombie apocalypse or even a stranding situation, fuel may become scarce, and you'll want to keep any gas you have in your tank. A simple and inexpensive locking gas cap can deter thieves and looters from siphoning off the fuel in your vehicle's tank. If the supply chain does break down, or you have to bug out into the wilderness for help, it will be essential to keep whatever is left for when you might need it. This won't make stealing your fuel impossible, but it will significantly deter those looking for a quick score.
-[amazon text=Fire Extinguisher for Electrical/Gas Fires&asin=B008REY6BU]: If a serious collision or impact takes place, fire could easily engulf your vehicle – and having a fire extinguisher rated to put out electrical and gas fires is critical, as they are the most common fires in vehicles. This one is compact and handles all these contingencies.
Of course there are many other supplies and preps you may want to consider for your vehicle, and there are obviously many situations where your car could become inoperable or impractical to use.
Nevertheless, having these items installed and ready in your transportation will keep you ready to survive and save the lives of others in numerous possible circumstances.
Stay vigilant, and please add any other important preps you have considered for your car, truck, boat or RV.