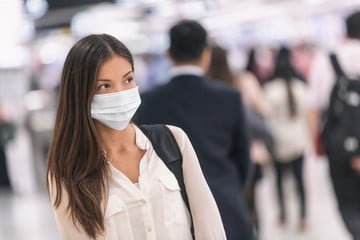 South Korea has officially recorded its first coronavirus death, as cases surge in the country. So far, South Korea has been struggling to cope with the outbreak and its economic fallout.
Earlier Thursday, South Korea said it has confirmed a total of 82 cases of the virus. It seems to be spreading to other places with little hope of containment, although there are quarantine measures in place. "National quarantine efforts that are currently focused on blocking the inflow of the virus (from China) and stemming its spread are inadequate for preventing the illness from circulating in local communities," said the mayor of the South Korean city of Daegu, Kwon Young-jin.
Kwon has also urged the city's 2.5 million residents to stay home and refrain from going outside.  New cases in Daegu appear to be linked to a church congregation, according to Time. 
The Korea Centers for Disease Control and Prevention said 28 of those 35 new patients went to church services attended by a previously confirmed virus patient or contacted her at other places inside a Daegu church. That patient is a South Korean woman in her early 60s who has no recent record of overseas travel, according to center officials. She tested positive for the virus on Tuesday, becoming the 31st case in South Korea. –Time
Kwon also asked Daegu citizens to wear masks even indoors if possible. He expressed fears that the rising infections in the region will soon overwhelm the city's health infrastructure and called for urgent help from the central government in Seoul.
HOW TO PREPARE YOUR HOME (QUARANTINE) FOR A PANDEMIC
Coronavirus: The Best Face Masks And How To Prevent Contraction Of The Virus
South Koreans should also consider washing their hands more often to help prevent transmission. The Shincheonji Church of Jesus, which claims it has about 200,000 followers in the country, said it has closed all of its 74 churches around the nation. Followers are being urged to stay home and to watch its online worship services on YouTube. It said in a statement that health officials were disinfecting its church in Daegu, which has about 8,000 followers.
Prepping For The Coronavirus: Hand Washing Is Vital