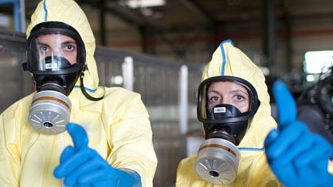 The coronavirus is continuing to spread rapidly around the globe. Members of Congres have imposed a "self-quarantine" in addition to Italy quarantining millions of people in an attempt to stop the spread of this infection.
World stocks tumbled overnight with investors bracing for the economic fallout of the epidemic, with a shocking all-out price war adding to the anxiety around this outbreak.  Preppers have historically been called "crazy" for stockpiling food and water and items necessary to survive situations like this one.  But time and time again, history also proves that those who are prepared have a better chance at survival than those who are not.
As politicians begin to take this virus seriously and self-impose a quarantine to prevent contracting it, Italy has taken more drastic measures to try to stop the spread. And in Italy, some 16 million people remained in quarantine after the government announced a lockdown in Lombardy and other northern regions.
Members of Congress are becoming increasingly nervous about coronavirus, and there is growing pressure on the establishment to take steps to protect lawmakers (who impose the deep state's agenda). Suggestions include potentially recessing for a period of weeks, according to two Democratic congressional sources said Sunday, as reported by NBC News. 
This is becoming a very real economic and societal event. Markets are dropping everywhere, and elitists are considering hunkering down in self-quarantine so they don't the virus.
Our suggestion is to make sure you improve your handwashing technique, boost your immune system, and prepare for the possibility that you may need to go on a self-imposed quarantine on your own in your home.
HOW TO PREPARE YOUR HOME (QUARANTINE) FOR A PANDEMIC
Many items are selling out, such as face masks, and 30-day emergency food supply kits.  Even
short-term food supply kits are selling out. This is the time to do an audit of your quarantine supplies and first aid kits to ensure you've got what you need in case this outbreak strikes in your area.
Will A Face Mask REALLY Protect You From The Coronavirus?
Face masks can be effective if worn properly.  Although they still aren't a 100% effective means of preventing an infection, they can be up to 80% effective when fitted to the face. Make sure you've chosen an N95 or better mask.
The point is that if the elitists are quarantining themselves, we should probably at least be able and ready to do the same.
If you had to deal with an injury or illness in a disaster, would you know what to do? The Survival Medicine Handbook is a 670-page detailed guide for those who want to be medically prepared for any disaster where help is NOT on the way. This book is written by Joe Alton, M.D. and Amy Alton, A.R.N.P., the premiere medical preparedness professionals from the top ten survival website www.doomandbloom.net. The expanded third edition of the 3 category Amazon bestseller (Survival Skills, Disaster Relief, Safety/First Aid) is geared to enable the non-medical professional to deal with all the likely issues they will encounter in catastrophic short or long-term scenarios. The third (2016) edition of The Survival Medicine Handbook is not your standard first aid book: Unlike other so-called "survival" medical books, it assumes that a disaster, natural or man-made, has removed all access to hospitals or doctors for the foreseeable future; you, the average person, are now the highest medical resource left to your family. The Survival Medicine Handbook will give you the tools, in plain English, to competently handle injuries and illness for any situation that leaves you at the end of the line with regards to your family's medical well-being.