This article was originally published by Matt Agorist at The Free Thought Project.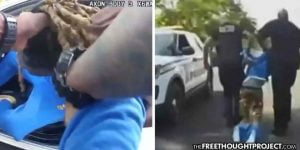 As TFTP reported in September, Clifford Owensby of Dayton, Ohio, learned the violent and oppressive lengths the American police state will go to enforce window tint extortion laws. Owensby, who had committed no crime, was targeted by police, assaulted, and then sent on his way because of the arbitrary darkness of his window tint. Days later, body camera footage was released by police, showing just how brutal cops are willing to be over the darkness of a man's windows — and skin too.
Owensby filed a complaint with the Professional Standards Bureau of the Dayton Police Department (DPD), who launched an investigation in October. Now, after "investigating" themselves for the last three months, police have come to the conclusion that officers did nothing wrong.
The report from the investigation determined Owensby's allegations that officers threatened violence and mocked him were "unfounded" in spite of their violence captured on video.
The officer's "pulling of Mr. Owensby's hair may have been visually offensive to some people, but in reality the hair pulling was on the low end of the force spectrum and did not cause injury," investigators found. "Mr. Owensby was removed to Grandview Medical Center where it was confirmed he was not injured during the incident."
The officers faced no discipline in spite of turning off their body cameras and mocking Owensby which was recorded on a supervisor's body camera. Investigators did, however, recommend more training as there is no policy in place that dealt with "how to best transport a disabled subject," the review stated.
"I am always in favor or more training," said James Willis, Owensby's attorney. But in this case, he thinks the officers should have been terminated.
"I think the officers should be fired," Willis said. "They are truly incompetent."
The city's mayor, Jeffrey J. Mims, released a statement Tuesday saying that residents "should feel that they are treated with dignity and respect, and I know that the incident between (Owensby) and Dayton Police fell short of that standard."
Indeed, as the body camera footage of the incident is nothing short of disgusting.
Owensby's nightmare started when he and his grandson were out running errands. As Owensby was driving down the street, harming no one, police targeted him for extortion because his window tint was at 20 percent. The interaction was captured on both body camera footage and cellphone footage.
As the video shows, an officer approaches the vehicle and tells the innocent father that his window tint is too dark before later demanding that he exit the vehicle so a drug dog and smell his car.
Owensby then explained to the officer that he couldn't get out of the vehicle as he didn't have his wheelchair and had gotten help getting in the car.
"I'm paraplegic," Owensby says multiple times. "I got help getting in."
"Well, I'll help you get out," the officer replies.
"Well, I don't think that's going to happen, sir," Owensby says.
The officer then tells Owensby that they are going to run a drug dog around his car — because Owensby has been arrested in the past — and uses this threat as the last straw.
Owensby then calls a family member and asks them to come down to film the interaction.
"Bring cameras," he said to his phone before asking for a supervisor.
"Here's the thing, I'm going to pull you out and then I'll call a white shirt. Because you're getting out of the car," the officer said. "That's not an option. You're getting out this car, so you can cooperate and get out of the car or I will drag you out of the car. Do you see your two options here?"
Moments later, as the video shows, Owensby is dragged from the car by his hair and thrown to the ground like a rag doll — over window tint.
As no drugs or contraband were found, cops had to seemingly make up charges on which to justify the treatment of Owensby. He was cited for his child being in the wrong car seat and improper window tint.
"To pull this man out of the car, by his hair — a paraplegic — is totally unacceptable, inhumane and sets a bad light on our great city of Dayton, Ohio," NAACP President Derrick L. Foward told WaPo.
A the time, the police union disagreed and defended the cops for dragging this dad from his car over the stop. And now, they likely feel vindicated.
"The officers followed the law, their training and departmental policies and procedures," Jerome Dix, president of Dayton Fraternal Order of Police Lodge #44 said. "Sometimes the arrest of non-compliant individuals is not pretty, but is a necessary part of law enforcement to maintain public safety, which is one of the fundamental ideologies of our society."