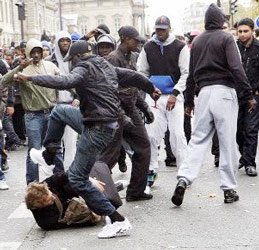 If you tuned your television exclusively to mainstream media broadcasts you'd probably think that racial violence and black victimization in America have reached a tipping point; that white-on-black crime was so out of control we were living under slavery or Jim Crow segregation again. But according to the controversial author of Don't Make the Black Kids Angry and White Girl Bleed a Lot Colin Flaherty, this is the biggest lie in America.
You will never see this eye opening interview from Future Money Trends broadcast by the big alphabet media outlets because it touches on a topic that is too taboo to discuss openly in America today:
Flaherty explains that politically correct politicians and media personalities refuse to say that black-on-white crime is 50 to 100 times worse than instances of whites attacking blacks.
I write about black mob violence and black-on-white crime all over the country… and I document how the media ignores it, denies it, condones it, excuses it, encourages it and sometimes lies about it…

As opposed to what we hear every day… the most common story that we read in the newspapers everyday is some variation of this, which is: 'Black people are relentless victims of relentless white racists all the time, everywhere, and that explains everything, especially why police are always picking on black people for no reason whatsoever."

And I document why that story is false… It's the biggest lie of our lifetime.
There is no doubt that we are living in the most racially divisive environment in American history. At every turn the mainstream media, often with direction from influential politicians and civil rights organizations, make it a point to highlight the injustices faced by black people being oppressed by whites. Never mind that it was suburban white America who was effectively the swing vote in an election that saw a black man become President of the United States. You'd think that would have put the notion of white supremacy to rest. Sadly, that was not the case, and if anything it has further fueled the fire, so much so that it is impossible to go a single day without reading about white-on-black violence happening somewhere in the country, while attacks by black people against whites are under-reported or simply ignored.
The agenda should be obvious. As has always been the case, those within the governing centers and agencies of our country want to create division among the populace, because by doing so they can maintain control and give themselves a reason for their existence. If Blacks, Whites, Hispanics and Asians aren't fighting with each other than they would very quickly turn their attention to the real problem – the puppeteers controlling the strings.
Hattip: Future Money Trends