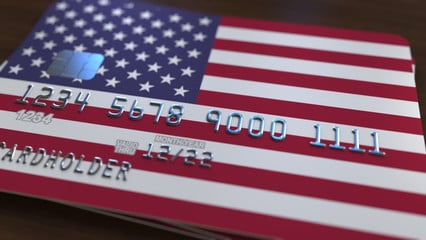 Consumerism on Black Friday hit a record high this year.  Americans spent $7.2 billion in digital sales alone this year. With 78% living paycheck to paycheck, you can also bet a lot of the stuff was purchased with money people haven't made yet.
That's up 14% over last year! Globally, Salesforce says sales hit $20 billion as other countries participate in Black Friday sales too, even if they don't have a United States Thanksgiving holiday. According to a report by Forbes, mobile sales were up sharply as well.  Mobile accounted for almost half of all e-commerce on Thanksgiving Day itself, and on Black Friday mobile orders surpassed the 50% mark. According to Salesforce, 65% of all digital orders on Black Friday were consummated on a mobile device.
The top five most-talked-about retailers, however, are the usual suspects, led by the two of largest retail giants on the planet:
Amazon
Walmart
Target
Gamestop
Best Buy
Salesforce estimates that total online sales will be up 15% this holiday season. If that happens, online sales will hit $768 billion globally. Cyber Monday is yet to come, of course but should hit $32 billion. Apple, Google, Xbox, Nintendo, and Playstation were all popular brands people spent money on this Black Friday. These brands are expected to see another boost by the end of today, which is known as Cyber Monday.
Using debt is a popular way to fund the holiday shopping Americans do. "Roughly 48 million Americans are still paying off credit card debt from the 2018 holiday season, far more than the 39.4 million who were paying off 2017 debt," said Nerd Wallet in its 2018 survey.
A study from credit reporting company Experian showed U.S. consumers similarly unenthusiastic about the holidays, based on their survey of 1,159 consumers, according to Axios. The year-over-year drop in the number of people who said they felt "thoughtful" was the largest in the history of the company's survey. Experian's survey also found that 66% of consumers said they would be doing their holiday shopping in cash, up 13% from just two years ago. Those who planned to make purchases with credit cards dropped to 38%, down 6% from 2017.
What is worrisome, is that even though consumers are saying they are expecting to be able to cash flow the holidays, Experian found consumers expected to spend an average of $1,649 during the holiday season, a "whopping" 75% increase over 2018. That means many will likely have to use credit cards to get all of the holiday shopping done that they want to this year.