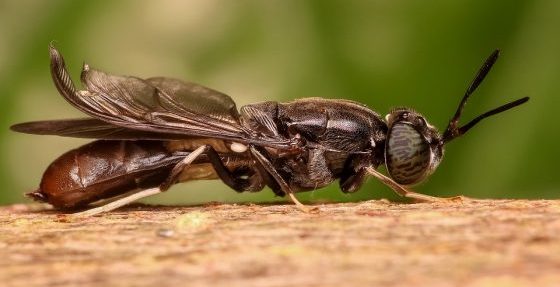 Conservationists are warning that an ongoing and unnoticed insect apocalypse is a huge concern and should be throwing up red flags. On Wednesday, the conservationists called for immediate action by governments, industries, and the public to address a decades-long, human-caused insect "apocalypse" detailed in a new report and warned of the sweeping, serious consequences of inaction.
"If we don't stop the decline of our insects, there will be profound consequences for all life on Earth," said Dave Goulson, an ecologist. "Insects make up the bulk of known species on Earth and are integral to the functioning of terrestrial and freshwater ecosystems, performing vital roles such as pollination, seed dispersal, and nutrient cycling. They are also food for numerous larger animals, including birds, bats, fish, amphibians, and lizards," Goulson said in a statement Wednesday.
Prof @DaveGoulson's new report reveals that if insect declines are not halted, ecosystems will collapse with 'profound consequences for human wellbeing': https://t.co/xyHD1thBoh

See the full report here: https://t.co/aI1iR7A4h3#WednesdayWisdom pic.twitter.com/QEqZDMVKpm

— Research Development – Sussex Uni (@SussexUniRE) November 13, 2019
ALERT: Presenter Warns of 'Ecological Apocalypse' In Great Britain
Recent findings on insect declines, which are largely driven by habitat loss and pesticide use, are "troubling," says the report.  This is because "if insect declines are not halted, terrestrial and freshwater ecosystems will collapse." Underscoring the need for action, the report warns that 41% of the planet's five million insect species are "threatened with extinction."
"The good news is that it is not too late," the report emphasizes. "We urgently need to stop all routine and unnecessary use of pesticides and start to build a Nature Recovery Network by creating more and better connected, insect-friendly habitat in our gardens, towns, cities, and countryside."
We are sawing off the very branch on which we are standing.

This has to stop.

Biodiversity loss and carbon emissions must be halted as soon as possible. https://t.co/KOxLHjGtwB

— Extinction Rebellion Godalming (@XR_Godalming) November 13, 2019
"This unnoticed apocalypse should set alarms ringing," Wiltshire Wildlife Trust chief executive Gary Mantle declared in response to the report. "We have put at risk some of the fundamental building blocks of life," Mantle said. "But as this report highlights, the main causes of insect declines are known and we can address them; insects and other invertebrates can recover quickly if we stop killing them and restore the habitats they require to thrive. But we all need to take action now in our gardens, parks, farms, and places of work."
It isn't all bad news though.  According to the experts, we can reverse this trend.
Very worrying new report from @SomersetWT shows the risk to food production if insect declines continue.

We can reverse this if we move to nature-friendly farming methods, with farmers rewarded for providing public benefits such as habitats for wildlifehttps://t.co/KRQEYROFPH

— CPRE The countryside charity (@CPRE) November 13, 2019
Josie Cohen, head of policy and campaigns for Pesticide Action Network U.K., agreed that there are things we can do to prevent the insect apocalypse from worsening. "Reducing pesticide use is a challenge that society can no longer ignore," said Cohen. "We applaud the Wildlife Trusts and others for highlighting that routine overuse of pesticides is harming wildlife and the ecosystems that underpin our health and prosperity."