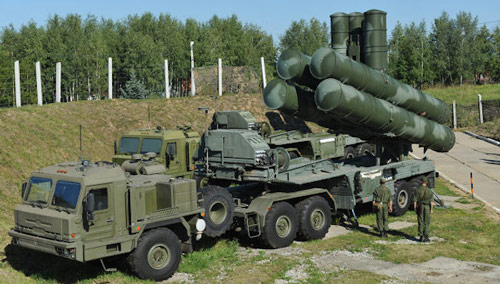 Up until now, on the record at least, all aid military and otherwise that the US has sent to Ukraine has been more in the vein of non-aggression.
Lethal aid is a line that has not been crossed yet, and for good reason. By all accounts, if the US were to lethally arm the Ukrainian government that it put into power over there, it would send a clear signal to Russia that America wants a full-blown war.
In fact, just days ago, Obama said that lethal weapons weren't ruled out, and top Russian MP and close friend of Putin, Alexi Pushkov, warned the European Parliament that if the United States supplied lethal weapons to the Ukrainian government, it would not only undermine the whole European security system but would result in 'all out war.'
Now that's exactly what new legislation introduced in the US House aims to do, to the tune of one billion dollars.
"The Secretary of Defense is authorized, in coordination with the Secretary of State, to provide assistance, including training equipment, lethal weapons of a defensive nature, logistics support, supplies and services, and sustainment to the military and national security forces of Ukraine, through September 30, 2017," Tuesday's legislation read. "To carry out the provisions of this act there are authorized to be appropriated $1,000,000,000. Amounts authorized to be appropriated under this subsection are authorized to remain available until September 30, 2017."

The bill, introduced by Representatives Adam Smith and Mac Thornberry, both members of the House Armed Services Committee, aims to secure Ukraine's "sovereign territory against foreign aggressors," and defend Ukrainians from attacks by "Russian-backed separatists," according to the legislation. Additionally, the bill calls for having a negotiated settlement to "end the conflict" in Ukraine. (source)
It seems the west is hell-bent on war.
It has already been established that the entire basis for Russian sanctions — the story floated in the western media that Russian army troops are fighting in Ukraine — is simply not true. At least not overtly.
Back in January, the Chief of Staff of Ukraine's Armed Forces General Viktor Muzhenko went on channel 5 in Ukraine and explicitly stated that there were no regular units of the Russian army fighting against his soldiers in Ukraine and that the only Russian citizens fighting are either Russian citizens of Ukraine to begin with or "members of illegal armed groups" who are not being paid by a government to fight and are doing so on their own.
Nevertheless, this escalation could easily provoke Russia into official involvement, bringing U.S. engagement closer as well.
Which may just be the way they want it…
What will happen if two superpowers become engaged in direct war? Not sure, but we might just find out.