This article was contributed by James Davis of Future Money Trends.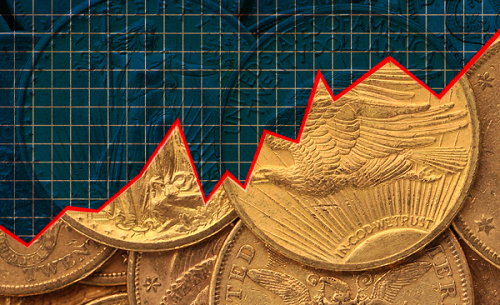 In the old days, companies were allowed to fail even if a health crisis like COVID-19 forced WIDESPREAD SHUTDOWNS, quarantines, and business closures mandated by the government. The PURE CAPITALISM theory popularized in the European Industrial Revolution was such that ANYTHING GOES, and it produced the first class of robber barons.
These business magnates created trusts, combinations, and monopolies. They worked their employees like slaves, without regard to human rights or common sense. People would work 12-hour shifts without food and breaks, in many cases LOCKED IN THEIR OFFICE by design.
Riots and strikes WERE COMMON, as that was the way worker unions would LEVERAGE THEIR POWER over the factory owners. If one business failed, another would replace it, and that happened often. Bankruptcies and defaults were extremely frequent and would result in immediate foreclosures.
In the Great Depression, for example, 4,000 banks WENT UNDER. Because of that trauma, the FDIC was formed and many social safety nets were put in place.
The criticism towards the Federal Reserve system was that IT DID NOTHING, or NOT ENOUGH to assist in cushioning the blow in 1929, but the PURE CAPITALISTS argue that the lessons learned were so valuable that the period that came after was the most prosperous in American history thanks to the PAINFUL TAKEAWAYS of the 1930s.
No matter where you happen to sit on this spectrum between limited and unlimited government, the facts are that there's a STRONG TREND in place in 2020 and it is that of MOTHER GOOSE, a government and a central bank, that act WITH FORCE to make investors, business owners, and everyday employees whole, all of which is paid for with NEW CURRENCY created by the Federal Reserve System or borrowed into existence by Washington. It's disgusting if you ask me.
As you can see, the BALANCE SHEETS of Western societies have gone TO THE EXTREME of the spectrum.
There's no precedence to this, so NO ONE, including the very bankers in charge, can engage in a FACTUAL ANALYSIS of how this impacts economies. They're experimenting, and as long as disaster doesn't strike, they go on in the same direction.
The best way to describe this would be like a racecar driver who is attempting to TAKE A CORNER at the highest speed possible. At first, he thinks that he has to use the gas as much as possible, but when he sees that's causing the car to spiral, he begins to change his mind and brakes hard before the corner, turns the steering wheel, and slowly accelerates. Next, he tries to brake as late as possible, BETTERING HIS TIMES in the process each and every lap. His new system seems to be working perfectly. He becomes confident that he has found the magic formula, so the following lap, he waits too long and BRAKES AS HARD AS HE CAN but to no avail. The car goes into the grass before hitting the pile of tires placed there to cushion blows.
His best lap, where he is MOST EXHILARATED, is the one right before the crash that takes him OUT OF THE GAME.
Imagine being a spectator or a sports bettor watching the progress of this professional. Would you bet against him as he keeps making BETTER LAPS each and every time? Not many would.
Who would be concerned? Someone that has been in the driver's seat and has seen how these things end. The point is that retail traders believe these stocks can't go down, while seasoned investors know this party will soon be raided by police, metaphorically speaking.

As you can see, the REAL ECONOMY is now beginning to reveal its face to us!
If you're like me, you understand that a good car and a good driver can last many laps without a mechanical error appearing or a loss of concentration on the part of the driver, but NO ONE'S PERFECT and no system is always effective.
Every fiat currency system has eventually failed, and this one HAS PEAKED.
EXCLUSIVE REPORTS, Featured In This Article and in Others, Which Are Considered ESSENTIAL READING: