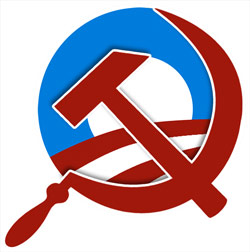 Today's article reports on a major local issue that is undoubtedly being duplicated nationally: another back-door method the Federal regime is using to gain control.  It is being done incrementally, insidiously, and indirectly…directly affecting us on the local levels.  The Federal regime is bypassing the rights of the people by seizing control through municipal, local, and state governments.  The Federal regime is bypassing the state legislatures, and if it can't?  The "color of law" is being used by bought-off "representatives" at the state level to force federal fiefdoms down the throats of citizens across the country.
I will cite this wonderful example of tyranny here in Montana, and then I ask you, the readers, to give your input.  Your feedback is crucial to cross-referencing.  Where applicable please mention any examples that are identical/similar in the states you reside within.  I am asking for you guys and gals to open up the "cross chatter" to reveal both what is happening and what you've found.  These reprehensible slugs, these mollusks that have the audacity to call themselves "representatives" are nothing more than community organizers who are "organizing the organized," in true Leftist Alinsky fashion.  Here we go, now.
Number 1:  An Ordinance of the City of Kalispell, Montana was recently passed.  This requires all pawn and second hand businesses to send information of anyone who sells an item above $50.00 (yes, you see it…fifty dollars!) to an online database.  Ready for the kicker?  The database is called LeadsOnline.com, and law enforcement has access to this information on private citizens at all times, without probable cause.  The "intended purpose" (i.e. – the lie): to protect the public.  I am listing some quotes from the ordinance, and (to summarize their contents) I am numbering them as such:
An affected business is one that:
"…engages in the purchase, sale, trade, barter, recycling or exchange of secondhand goods, wares or merchandise; or any person who keeps any store, shop, room or place where secondhand goods, wares or merchandise of any kind or description, are bought, sold, traded, bartered, recycled or exchanged is defined as a secondhand dealer."
Information submitted to the database:
"The customer's name and date of birth and documentation…" and also "The current street address, city, state and zip code of the customer's residence."
"Business" compliance requirements:
"Every pawnbroker and secondhand dealer shall own, maintain and operate a computer system with Internet access.  Every pawnbroker or secondhand dealer shall electronically file all records identified in Section 20-3 directly to an Internet subscription service designated as an agent of the police department as prescribed by the Chief of Police.  The pawnbroker or secondhand dealer shall enter and upload such information from its records by no later than 5:00 PM on Friday of each week."
…And now enter the "Snidely Whiplash" part of the whole deal…
What about "Business" Compliance?
"If the transactions have not been entered into an electronic database according to this section, the Police Department shall serve a cease and desist order upon the business from any further transactions by the operator, until the operator is in compliance."
Our law enforcement: "To Protect and Serve."  They left out the phrase, "Our Masters," in the slogan.  These are great, aren't they?  The last item reminds me of the first "Robocop" movie, with that big robot-weapon that told a business executive, "Drop your weapon.  You have thirty seconds to comply," and then it killed him anyway even after he dropped it.  Let's examine some of the parts of this "noble ordinance," and see what the elected nobility really wants to do:
Item #1:  This effectively forces compliance on pawnshops, thrift stores, mom and pop secondhand furniture and house ware stores, gun shows, farmers' markets.  The phrase, "bought, sold, traded, bartered, recycled or exchanged" just means transfer in any way.  City ad valorem and taxes increase, but the biggies?  1) This is the backdoor method to outlaw private sales of firearms, and 2) Maintain an active database accessible to law enforcement with the name, birthdate, and address of someone who purchases a firearm (of course with the firearm information as well).
In Montana you can just sell somebody a firearm without an FFL, as long as you're not knowingly selling to Jack the Ripper/a convicted felon.  Read Number 1's quote carefully.  "..or any person who keeps any store, shop, room or place where secondhand goods….[exchanged]."  Such is completely subjective and open to any interpretation they see fit.
Joe Snuffy has a couple of shotguns in his rented studio apartment and he trades one to Jim Sniffy for a couple of fishing rods.  Bingo: he is now "out of compliance" if they deem it so.
Item #2:  Self-explanatory, this creates a registration for a firearm via the backdoor as well as a nightmare of invasion of privacy.
Item #3:  This part sets up the Kalispell Chief of Police as the "Sheriff of Nottingham," the one who decides the "agent" who will handle all of the data.  The order forces businesses to have the Internet, and the "..Internet subscription service designated as an agent of the police department.."  No privacy: all businesses have to send their information and records each week.
Item #4:  The bottom line: the police department can shut down a noncompliant business.  Nifty, huh?  No recourse except to comply with the police department.
Now all of that "public safety and security" stuff is nonsense, the reason being that the pawn shops are already using a database to help track down stolen items and screen nefarious characters.  The database has been in place for years.  This new invasion of people's rights to privacy is:
To enable these politicians to stick their muzzles into the people's funds and steal more through taxation,
To gain a foothold into controlling businesses, and
To carry out the regime's intentions: national registration and data on all privately owned firearms.
The county (Flathead County, Montana) was involved in the Kalispell city meetings, and their representatives indicated that the county would follow suit.  They would do it in the same manner: county officials enacting an identical ordinance that would not be voted on by the people.
If you're interested in reading it, here is the direct link to the city's website:
http://www.kalispell.com/mayor_and_city_council…
The city of Missoula (with a population of about 80,000) is getting ready to vote on their version of this ordinance.  So there we have it.  Readers, let us know what is going on in your home states in a similar vein to this event.  I don't mean to be a harbinger of doom; however, realistically we are watching the incremental demise of every aspect of American life.  I look forward to hearing from each of you and hope to learn a lot more on this.  I'll do another piece when the county ordinance begins to surface.  Have a great day and I hope to hear from you guys and gals soon!
JJ
---
Jeremiah Johnson is the Nom de plume of a retired Green Beret of the United States Army Special Forces (Airborne).  Mr. Johnson is also a Gunsmith, a Certified Master Herbalist, a Montana Master Food Preserver, and a graduate of the U.S. Army's SERE school (Survival Evasion Resistance Escape).  He lives in a cabin in the mountains of Western Montana with his wife and three cats. You can follow Jeremiah's regular writings at SHTFplan.com.
This article may be republished or excerpted with proper attribution to the author and a link to www.SHTFplan.com.