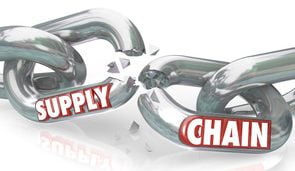 With the global supply chain already under immense pressure, the continued and expanding lockdowns in China threaten to worsen it. As of right now, at least 20 million people are in lockdown across the country of China.
The country's zero-tolerance policy has manufacturers on edge. They are already at the brink of failure from spending the past two years dealing with crippling supply chain woes and now they seem to be worried about another round of shutdowns at Chinese factories and ports, according to a report by The New York Times. Additional disruptions to the global supply chain would come at a particularly fraught moment for companies, which are struggling with rising prices for raw materials and shipping along with extended delivery times and worker shortages.
Has the mainstream media finally caught on to the supply chain issues most of us have already experienced? Analysts have started to warn that many industries could face disruptions in the flow of goods as China tries to stamp out any and all coronavirus infections ahead of the Winter Olympics, which will be held in Beijing next month. However, this could all be in vain. On Saturday, Beijing officials reported the city's first case of the Omicron variant, prompting the authorities to lock down the infected person's residential compound and workplace. Should any other positive tests surface, expect the harsh totalitarian lockdowns to spread and begin to affect even more people.
Manufacturers are watching and waiting to see whether more factories and ports in China might be forced to shutter at the commands of the ruling class if they can panic people over Omicron in the coming weeks.
 An economist from Moody's Analytics says supply chain disruptions are being prolonged driven largely by China's strict zero-Covid policy. Katrina Ell, a senior economist for Asia-Pacific at Moody's Analytics said that the continued and ever-expanding lockdowns will play a role in the overall global supply chain,.