This report was originally published by Tyler Durden at ZeroHedge.com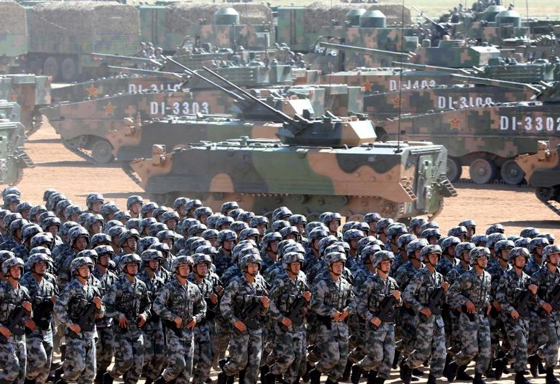 All day Saturday, South Korea braced for a possible new missile test by North Korea as the provocative northern neighbor marked its founding anniversary, just days after its sixth and largest nuclear test rattled global financial markets and further escalated tensions in the region. Throughout the week, South Korean officials warned the North could launch another intercontinental ballistic missile, in defiance of U.N. sanctions and to further provoke the US. As Reuters reports, Pyongyang marks its founding anniversary each year with a big display of pageantry and military hardware. Last year, North Korea conducted its fifth nuclear test on the Sept. 9 anniversary.
Ultimately, September 9 came and went, and North Korea did nothing, perhaps signalling its eagerness to de-escalate. Or perhaps not, and Kim is simply looking to surprise his adversaries with the ICBM launch date. Experts have said the rogue, isolated regime is close to its goal of developing a powerful nuclear weapon capable of reaching the United States, something Trump has vowed to prevent.
Celebrating its founding anniversary, a front-page editorial of the Saturday edition of North Korea's official Rodong Sinmun said the country should make "more high-tech Juche weapons to continuously bring about big historical events such as a miraculous victory of July 28.". The July date refers to the intercontinental ballistic missile test (Juche is North Korea's homegrown ideology of self-reliance that is a mix of Marxism and extreme nationalism preached by state founder Kim Il Sung, the current leader's grandfather).
* * *
Meanwhile, South Korean nuclear experts, checking for contamination, said on Friday they had found minute traces of radioactive xenon gas but that it was too early to link it to Sunday's explosion. The Nuclear Safety and Security Commission (NSSC) said it had been conducting tests on land, air and water samples since shortly after the North Korean nuclear test on Sunday. There was no chance the xenon "will have an impact on South Korea's territory or population", the agency said.
What is more concerning, however, is a Friday report on NBC, according to which Trump is readying a package of diplomatic and military moves against North Korea, including cyberattacks and increased surveillance and intelligence operations, after the nation's sixth and largest nuclear test.
Trump's top national security advisers walked him through a range of options over lunch in the White House on Sunday, just hours after North Korea's latest test, officials said.
According to NBC, Trump is also seriously considering adopting diplomatically risky sanctions on Chinese banks doing business with Pyongyang and upgrading missile defense systems in the region, administration officials said. In addition, the administration is not ruling out moving tactical nuclear weapons to South Korea should Seoul request them, a White House official said, though many consider such a move a nonstarter. It would break with nearly three decades of U.S. policy of denuclearizing the Korean Peninsula.
U.S. officials have also made the case to China that if Beijing doesn't take stronger steps against North Korea, such as cutting off oil exports, South Korea and Japan are likely to pursue their own nuclear weapons programs and the U.S. won't stop them, the official said. "It's more a message for China than North Korea," the official said.
The U.S. has adopted sanctions aimed at Chinese entities that conduct business with North Korea, but has so far held back on broadly targeting China's banking system. China has told U.S. officials it would protest such a move diplomatically and retaliate, according to the senior administration official.
So what happened on Sunday? According to NBC, Trump's national security advisers presented him with U.S. military options, including pre-emptive strikes, and nuclear capabilities should America be called on to abide by its treaty obligations in the region, White House and defense officials said.
The president's advisers have made the case, however, that military strikes on North Korea could have serious repercussions, senior defense officials said, and the most glaring among these is that China has told administration officials that if the U.S. strikes North Korea first, Beijing would back Pyongyang, a senior military official told NBC.
This is not the first time China has warned the US not to escalate: on August 11, Beijing, through the state-owned media, cautioned the US president on Friday that it would intervene (militarily) on North Korea's behalf if the US and South Korea launch a preemptive strike to "overthrow the North Korean regime," according to a statement in the influential state-run newspaper Global Times.
"If the U.S. and South Korea carry out strikes and try to overthrow the North Korean regime and change the political pattern of the Korean Peninsula, China will prevent them from doing so," it said.
At the same time, the Chinese regime made it clear that its preferred outcome would be a continuation of the status quo, warning Kim Jong Un, or perhaps Trump, that it would "remain neutral if North Korea were to strike first."
As we said almost one month ago:
 "not surprisingly, analysts have compared the standoff between the two nuclear powers (the North is a recent, if untested, member of this club) to a modern day Cuban Missile crisis.  "This situation is beginning to develop into this generation's Cuban Missile crisis moment," ING's chief Asia economist Robert Carnell said in a research note. "While the U.S. president insists on ramping up the war of words, there is a decreasing chance of any diplomatic solution."
Since then, the potential risks, mutual threats and near-hostilities have grown exponentially. China – which is by far North Korea's biggest trading partner, accounting for 92% of two-way trade last year, and also provides hundreds of thousands of tonnes of oil and fuel to the impoverished regime – has only dug in deeper, explaining repeatedly that it wants a peaceful de-escalation and that it would not side with the US in case of a military conflict.
* * *
What happens next? Well, on one hand, after today's lack of launch, there is hope that things will indeed de-escalate. A headline that just hit from Yonhap may accelerate this:
SOUTH KOREA SEES NO SIGNS OF IMMINENT ADDITIONAL PROVOCATIONS BY NORTH KOREA THAT COULD LEAD TO ANOTHER MISSILE OR NUCLEAR TEST: YONHAP
On the other hand, what the US does next may be a sufficient provocation to force Kim to lob another ICBM. Earlier today, Reuters reported that the USS Ronald Reagan aircraft carrier left its home port in Japan for a routine autumn patrol of the Western Pacific, a Navy spokeswoman said. That area included "waters between Japan and the Korean peninsula." North Korea vehemently objects to military exercises on or near the peninsula, and China and Russia have suggested the United States and South Korea halt their exercises to lower tension.
Another imminent escalation is due on Monday.
That's when the United States told the U.N. Security Council that it intends to call a meeting to vote on a draft resolution establishing additional sanctions.  U.S. ambassador to the United Nations Nikki Haley said last Monday that she intended to call for a vote on Sept. 11 and then the United States circulated a draft resolution to the 15-member council on Wednesday.
The United States wants the Security Council to impose an oil embargo on North Korea, ban its exports of textiles and the hiring of North Korean laborers abroad, and to subject Kim Jong Un to an asset freeze and travel ban, according to a draft resolution seen by Reuters on Wednesday.
It was not immediately clear how North Korean allies China and Russia would vote, but a senior U.S. official on Friday night expressed scepticism that either nation would accept anything more stringent than a ban on imports of North Korean textiles. Chinese officials have privately expressed fears that imposing an oil embargo could risk triggering massive instability in its neighbor.
Meanwhile, tensions are also growing between China and South Korea. The two countries have been at loggerheads over South Korea's decision to deploy the U.S. THAAD anti-missile system, which has a powerful radar that can probe deep into China. Shares in South Korean automaker Hyundai Motor and key suppliers slid on Friday on worries over its position in China after highly critical Chinese state newspaper comments. Recently Hyundai auto sales in China have crashed as local suppliers and potential customers have shied away from the company due to nationalistic prerogatives. The military section of China's Global Times newspaper on Thursday referred to THAAD as "a malignant tumor".
The good news, for markets, is that this Saturday's widely anticipated ICBM launch from North Korea did not take place; the bad news is that said launch was at best delayed, and if and when it comes, the US will have to choose: do nothing again, and appears increasingly weak on the global diplomatic arena, or retaliate, and risk dragging China into the conflict, potentially precipitating the appearance of mushroom clouds around the globe.