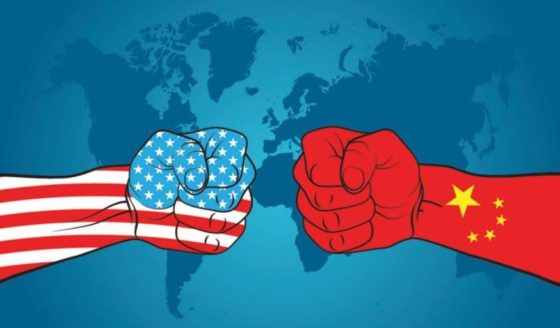 China is taunting the United States over the tension increasing trade war. Chinese authorities have warned through state media that they will survive the trade war with the US.
As tariffs are added and prices go up on goods and services to combat increasing government regulation of the economy, China insists it can handle a trade war with the US.  Of course, they can; since American consumers are going to be ones footing the bill for this horrific idea. 
The declaration of a survival of the trade war appears to be in response to the Chinese government's announcement on Friday, that a list of possible tariffs could affect imported goods. The tariffs range from 5% to 25% on $60 billion worth of U.S. agricultural, metal, and chemical goods. The tariffs would go into effect if the U.S. makes good on its threat to raise tariffs to 25% on some $200 billion worth of Chinese goods.
The next day, President Donald Trump said the U.S. still has the upper hand in the trade war, but according to most financial and economic experts, Trump is wrong. "China has to defend its right to development, and we don't fear sacrificing short-term interests," The Global Times wrote in an editorial. "The U.S. is trying to conclude the trade disputes swiftly, but China is prepared for a protracted war…In future, the U.S. economy will depend more on the Chinese market than the other way around." But the editorial also highlighted China's rationality and said its people do not want a trade war.
Well, the American people don't want a trade war either, and frankly, they can't afford it.  The Chinese actually have savings on hand to spend in case of emergency.  The same cannot be said about the average American. Most Americans live paycheck to paycheck; meaning any increase in the cost of goods or services could be detrimental.
But according to Fortune, $1 million a year in imports, Bloomberg the list of almost 6,000 items that China unveiled Friday may be meant more to "save face" than as a direct tit-for-tat, as 500 of the listed items aren't traded in the first place and another 2,000 see less than reported. Meanwhile, the American side has played down the trade war's impacts on its own economy, with President Trump claiming without evidence that U.S. Steel would open several new steel mills due to U.S. tariffs on foreign steel.
So far, the trade giants (the US and China) are in the midst of stop-and-go trade negotiations. China has also complained to the World Trade Organization about the U.S. tariffs. Such disputes are common: the U.S. and China had a total of 32 on-going disputes last month, and the U.S. and EU had 52.