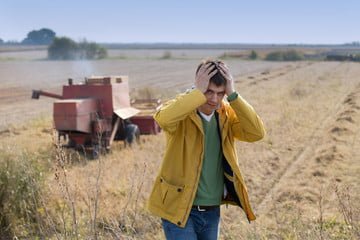 China is responding to the United States' trade war by banning the import of soybeans grown by U.S. farmers into the Communist country. American farmers have been officially warned that they and the American consumer will suffer under this trade war and fare much worse than the Chinese government.
Russian soybeans will replace those previously supplied by the U.S. to China. China boosted the import of American soybeans as a goodwill gesture when the leaders of the two countries agreed to halt the tariff hikes late last year. Back then, the move provided some relief to a significant part of Trump's voter base, the American farmers, who are struggling to find buyers for their massive harvest.
Soybeans Pile Up As Farmers Hope Trade War Ends SOON
The renewed Chinese ban will hit them hard, given that soybean futures have recently slumped. And a majority of American farmers are already in a precarious situation.
https://www.shtfplan.com/headline-news/the-u-s-faces-a-catastrophic-food-supply-crisis-in-america-as-farmers-struggle_02072019
There is no reprieve in sight for the American farmer. According to Bloomberg, the Chinese state-owned grain buyers don't expect that the order to continue the purchasing soybeans from the U.S. will come any time soon. China's move will further drive U.S. grain prices down further indebting already borderline bankrupt farmers. Soybean and corn futures plummeted to the lowest price in more than 40 years at the beginning of May, even before president Donald Trump raised tariffs on another $200 billion in Chinese goods from 10 percent to 25 percent and threatened to expand the trade war to all Chinese imports. Since then, crop prices have been slightly recovering.
The U.S. government's interference in the free market could soon plunge the country into a difficult food crisis. It's no longer a trade war, but a war on food. For those who assume the trade war won't affect them if they only buy American: hopefully, prices of food won't surpass your income because a couple of dictators refuse to allow a free market. Last we checked, all humans still have to eat to survive.
Start storing extra food, canned goods are an excellent option, and save a little extra money in your bank account.  This trade war could drag out, but that's an even bigger reason to be prepared. As this trade war drags on, it will affect us all to an even greater extent than it already has.
https://www.shtfplan.com/headline-news/financial-crisis-the-trade-war-cost-americans-1-4-billion-per-month-last-year_03052019