This report was originally published by Tyler Durden at Zero Hedge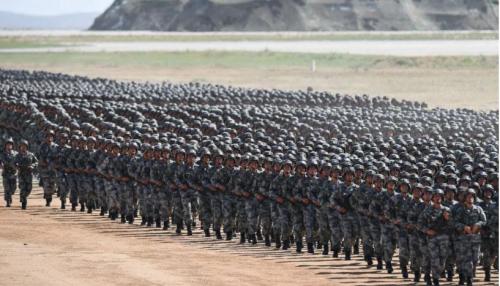 While the specter of a nuclear war with North Korea has faded in recent weeks, China is not taking chances, and ahead of the Winter Olympics in South Korea, the Chinese government has deployed 300,000 troops and multiple mobile strike groups to its highly-guarded border with North Korea, a move which signals that Beijing is quietly gearing for a potential crisis between Kim Jong Un and the United States in the coming months.
According to South Korea's Chosun Ilbo news, "China is preparing for a potential war on the Korean Peninsula by reinforcing missile defenses near the border with North Korea" citing a report from Radio Free Asia. "Military units in Yanbian were relocated from Heilongjiang Province, thus adding 300,000 troops along the border."
RFA quoted a North Korean source in China that the Chinese military late last year deployed another missile defense battery at an armored division in Helong, west of Longjing in the Yanbian Korean Autonomous Prefecture. Now it is deploying missile defense batteries near North Korean reservoirs by the Apnok and Duman rivers.
The reason for the increased missile presence is that Chinese troops in the border area could be swept away if the North tore down the banks of the reservoirs or they were destroyed by missiles or air strikes, the source added.
On Jan. 24, Taiwan's Central News Agency reported that the 78th Group Army, the first Chinese military unit that would cross the border into the North in the event of a war on the Korean Peninsula, has been armed with newest surface-to-air missiles against South Korean and U.S. aircraft and missiles.
The reported deployment comes just days before the start of the 2018 Winter Olympic Games in South Korea.
What is peculiar about this escalation is that it comes as Kim Jong Un's regime has – at least optically – attempted to "thaw" relations with Seoul, wishing the South Korean government a "successful" competition and hoping to "ease military tensions" before the games begin. In a rare case of Korean unity, both North and South Korea plan to march into the Opening Ceremonies under a "united Korean flag" and will combine their female hockey teams.
Meanwhile, Trump has been busy pushing his domestic agenda to engage in Twitter bickering and comparing nuclear button size with Kim Jong-Un, allowing tensions between the two nuclear-armed nations to ease in recent weeks, although if China knows something, this tentative detente will not last long.